May 2016
Power of Gamification – Impact on Business, Social and Economic Development,
Leicester Success through the Gamification Lens, Virtual Worlds & the Skinningrove Jetty Story
Asia Pacific Healthcare Simulation, Bangkok International Digital Content Festival,
Thailand E-Learning Association, Malaysia Inaugural Gamification for Education Workshop, Singapore Medical Simulation Lab, 360 degree Aerial Images, Upcoming Conferences
In this Edition
· Power of Gamification – Impact on Business, Social and Economic Development
· Leicester's Success through the Gamification Lens
· Virtual Worlds and the Skinningrove Jetty Story
· Asia Pacific Healthcare Simulation Conference 2016
· Bangkok International Digital Conference Festival 2016
· Thailand E-Learning Association Workshop
· Malaysia's Inaugural Gamification for Education and Health and Well-Being Conference and Exhibition
· Singapore Medical Simulation Lab
· Health and Well-Being in the Ageing Society
· Personal Health Management for Chronic Conditions such as COPD
o June 8th Medilink Innovation Day
o June 17-19 6th Annual Digital Medicine Academic Meeting of Chinese Medical Association
o   June 21st TEDx Leicester Salon Event – Carpe Diem
o July 7/8 International Symposium on Digital Earth (ISDE)
o Sept 23/24 Singapore Health and BioMedical Congress
o Nov 28/Dec 1st SEANES 2016 Ergonomics and Human Factors Conference
· Recent Articles and Presentations
Power of Gamification – Impact on Business, Social and Economic Development

Leicester City Football Club Victory Parade and Selected Images celebrating Success
Welcome to the GAETSS May 2016 E-Newsletter.
I make no apology for using the success of Leicester City Football Club in becoming premier league football champions to illustrate how important gamification concepts could be in today's society. This importance is not just about the impact that winning the league championship will have on the Leicester City Football Club but the success also provides wider lessons we can draw around how gamification concepts (sometimes enabled by technology) can shape the future of businesses, communities and economies.
Leicester achieved this season what was regarded as an impossible dream. So unlikely was the prospect of Leicester winning what is arguably football's premier competition that the bookmaker's odds of 5,000 to 1 at the beginning of the season were described as more unlikely than finding the Loch Ness Monster or Elvis Presley alive. To win by a margin of 10 points in a competition which is based on 38 football games over a season is no fluke or random event but something which has been achieved by a group of people sharing a common vision, motivated by inspirational leadership and supported by collaboration with a whole network of partners in a "win-win" ecosystem.
What makes Leicester's success so special is not so much the remarkable "against the odds" achievement but more the response of the citizens of a city which has not known success like this in 132 years of the football club's existence, eclipsing even the remarkable find of King Richard III's remains in a car park.
I was delighted to share in the celebrations along with almost 250,000 people and the atmosphere in the victory parade through the city was captured by the slogan on many people's shirts and flags "We've only gone and won the Premier League!!", expressing in one sentence surprise, pride and humility at an event which most people in the city regard as a "one-off", "never to be repeated" occurrence. This was the city of Leicester's "moment in the sun" both literally and metaphorically, their 15 minutes of fame.
It is this response to finding the city suddenly catapulted into a global spotlight through the efforts of a relatively small number of people who are totally unconnected with and have no responsibility for the social and economic development of Leicester which will transform and shape the future of Leicester and its citizens. Unlike the bigger, heavily financed clubs from London and Manchester for whom success is almost an expectation, the Leicester success will inspire a whole generation of citizens in the same way that the 1966 World Cup win inspired the British people for decades to come.
For me, it brought back memories of the ComKnet project in 1998 when we sought to use the impact of a former citizen of Market Harborough (and Leicester), Thomas Cook, to inspire the citizens of Market Harborough to a common vision of making this small market town a leading innovator in the use of disruptive communications technologies. The ComKnet project was a journey that took me to Downing Street and led me to discover a High Tech Milkman, a senior BBC Cameraman and a special effects film expert employed on the Harry Potter films on my doorstep. You can watch a video of the ComKnet story on YouTube at https://www.youtube.com/watch?v=8hm4AkNbTlM.
The key Gamification elements that are common to all these stories are Challenges, Goals, Rewards, Intrinsic Motivation, Teamwork, Relationships, Measurement and Feedback. What the Leicester City Football Club achieved for the citizens of Leicester can provide a template for the use of Gamification concepts in almost every business and community.
Leicester's Success through the Gamification Lens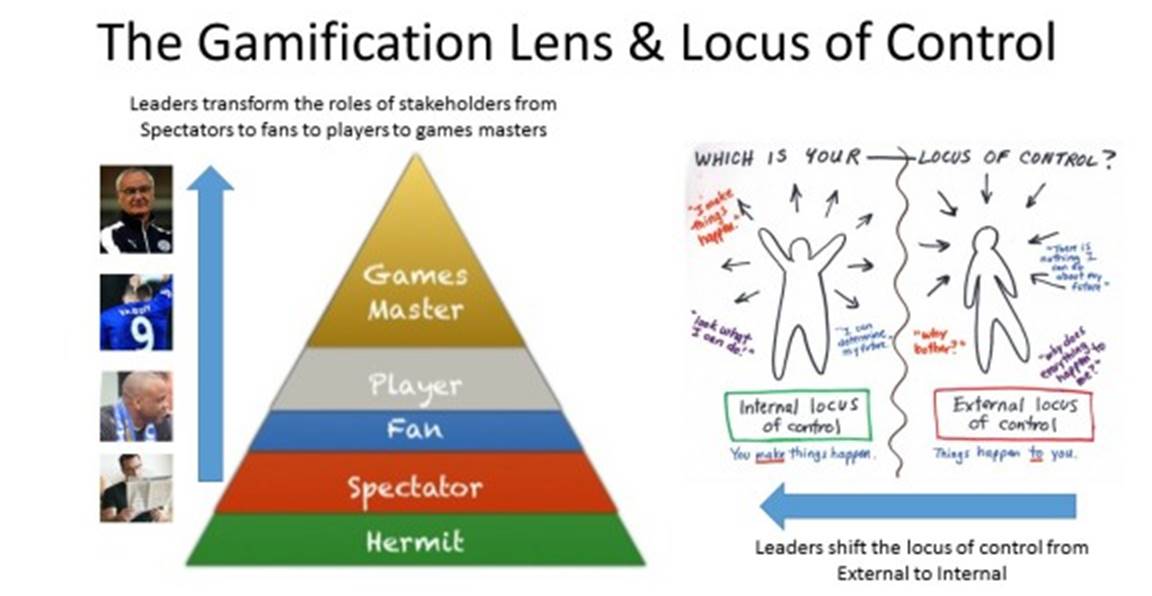 Leaders bring engagement, motivation and belief in self-efficacy through Gamification strategies
Quite some time ago, I wrote a White Paper on the Theory and practice of Gamification (see Slideshare Page http://www.slideshare.net/dwortley/gamification-and-enabling-technologies-white-paper ). I argue that every human activity can be viewed through a "Gamification Lens" in which we assume a role depending on our circumstances and motivation to influence that activity. In many human activities like love, politics, work etc., we even use the word "Game" to describe the activity.
The roles that we assume can be expressed as a hierarchical pyramid where those who choose to have no interest in being involved are described in this model as "hermits" and each layer above the hermit has an increased level of engagement/ interest/ influence. The challenge in any human activity is to increase the level of engagement of stakeholders so that spectators become fans and players working towards a common goal. Good leaders or "Games Masters" have the ability to build ecosystems of engaged individuals who can all contribute to a successful outcome.
Today we have what I believe is increasingly a "Spectator Society" where individuals feel that power and responsibility for change is outside of their control, expressed in the diagram above as an "External Locus of Control". Leaders have the ability make people believe in themselves and their ability to make things happen.
Leicester's success is an example of how leaders such as Claudio Ranieri, the Thai owners of Leicester City Football Club and the backroom team have successfully made these transformations both within the city of Leicester and all around the globe where Leicester City's achievements will inspire and influence many thousands of people in a very positive way.
Virtual Worlds and the Skinningrove Jetty Story
Skinningrove Jetty developed in the Virtual World and now under construction in the physical world
https://www.facebook.com/skinningrovejetty
Another, quite different story of the power of Gamification and Enabling Technologies to impact social and economic development is set in the North East of England in a former mining community called Skinningrove where one of my social entrepreneur friends, Steve Thompson, was heavily involved in a project to repair a jetty that once was used to carry iron ore to the steel industries before it was badly damaged by being blown up by British Marines in the Second World War to prevent its use in a possible invasion.
After the war, the Skinningrove community suffered badly from the decline of the steel industries in the Teesside area but two members of the Skinningrove community were determined to revitalise the community by raising funds to rebuild the jetty as a tourist attraction and a catalyst for local business enterprise. With Steve Thompson's help and the support of local politicians, they created a virtual version of what the jetty could look like in Second Life and used the technique known as Machinima to make a video of the opening of the rebuilt jetty. The costs of repairing the jetty were substantial but, through the passion and commitment of the individuals and the power of technology, the work is taking place and the latest video of the project can be viewed on Facebook at https://www.facebook.com/skinningrovejetty
Asia Pacific Healthcare Simulation Conference 2016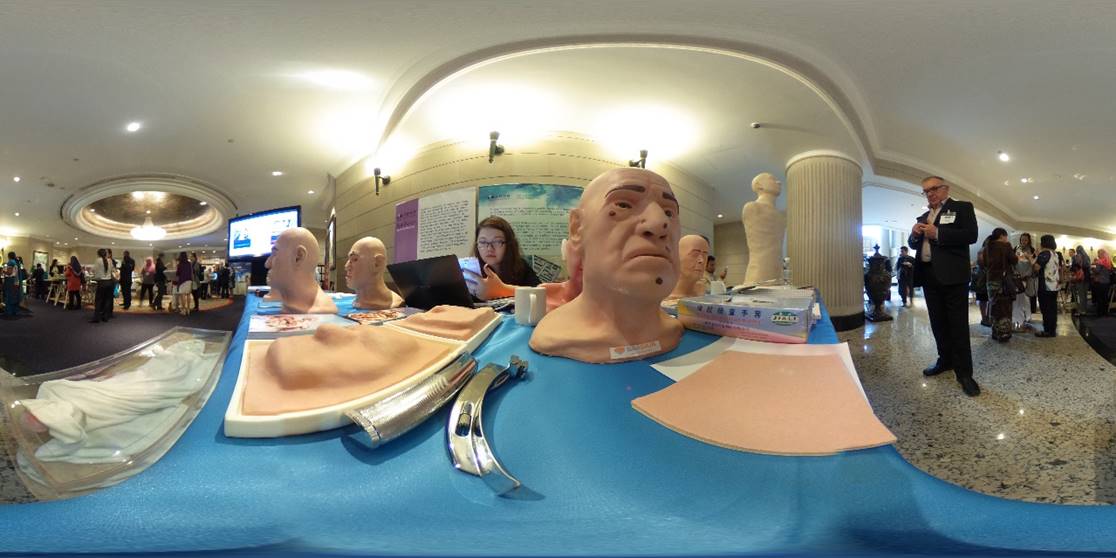 360 degree Image from Asia Pacific Healthcare Simulation Exhibition – Click Image to View in 360 Degree

The Asia Pacific Healthcare Simulation Conference and Exhibition took place in Kuala Lumpur at the end of April and was attended by around 100 health professionals plus exhibitors from across South East Asia and China. My presentation at the event was on the theme of "The Past, Present and Future of Medical Simulations" (http://www.slideshare.net/dwortley/past-present-and-future-of-medical-simulations ). I drew on my experience from my time as the Founding Director of the Serious Games Institute at Coventry University to describe the use of simulation technologies developed for the games industry to create realistic training scenarios for diverse scenarios which included triage training for paramedics in responding to a city centre explosion, simulation of death from a head wound and treating computer generated realistic patients in an Accident and Emergency situation.
Medical simulations are becoming increasingly sophisticated and their application is evolving in ways which could have a profound impact on the medical profession, leading eventually to the possibility of routine surgical procedures being performed by either a robot surgeon or an individual whose skills are based on manual dexterity rather than a lifetime of training and experience.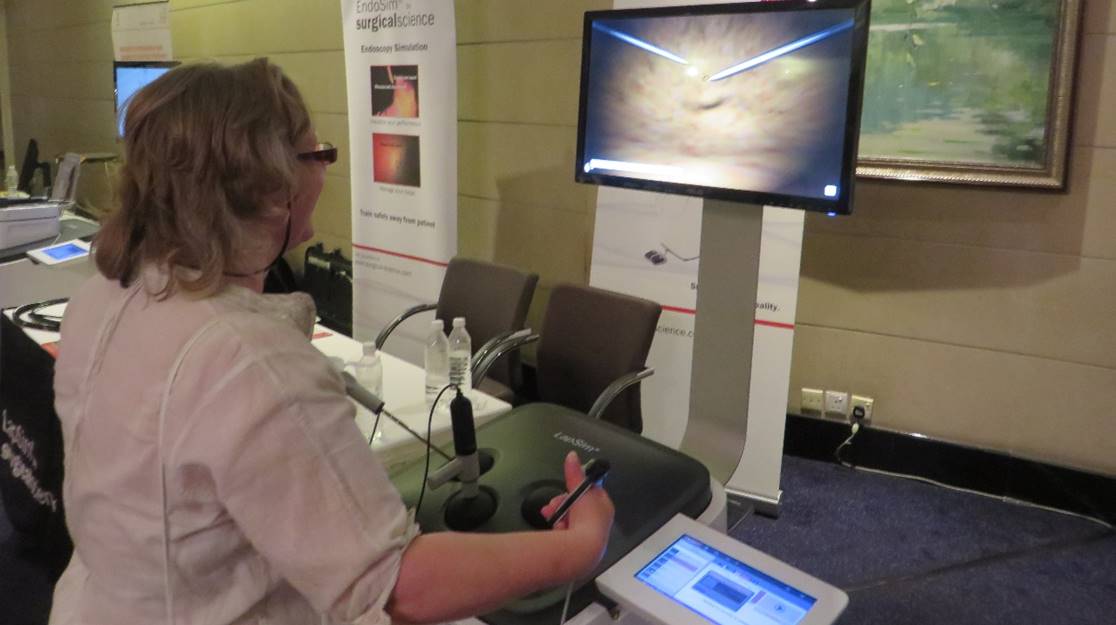 Keyhole Surgery Simulator with Haptic Feedback
Evolution of Medical Simulations
The evolution path for medical simulations could be summarised in the following way :-
THE PAST
The use of animations and virtual worlds to simulate medical scenarios too expensive, dangerous, rare or impractical to create in a physical setting. The focus being on creating an experience of a medical scenario in a safe environment which can be monitored, assessed and debriefed by human experts. Simulations and serious games were typically single user. Mannequin dummies and volunteer patients with simulated wounds widely used.
THE PRESENT
Increasingly sophisticated multi-user simulations involving collaboration between users over a network. Ability to customise scenarios and set up virtual cameras to record performance for use in debriefing. Mixing of physical and virtual environments and increasing use of physical simulators which can provide haptic feedback to the user and record the user performance. Increasing use of technology to monitor, assess and provide feedback to the user. Mannequin dummies are becoming more realistic and with embodied artificial intelligence.
THE FUTURE
Artificial intelligence, Sensor Technologies and Robotics could revolutionise medical simulations using real-time data and the integration of physical and virtual environments to either enable non-surgical staff to perform patient diagnostics and routine operations or robots to perform diagnosis and surgery. Wearable technologies and embedded sensors monitoring citizen health are likely to be used to simulate future health prognosis with a focus on preventative healthcare and better tools for personal health self-management.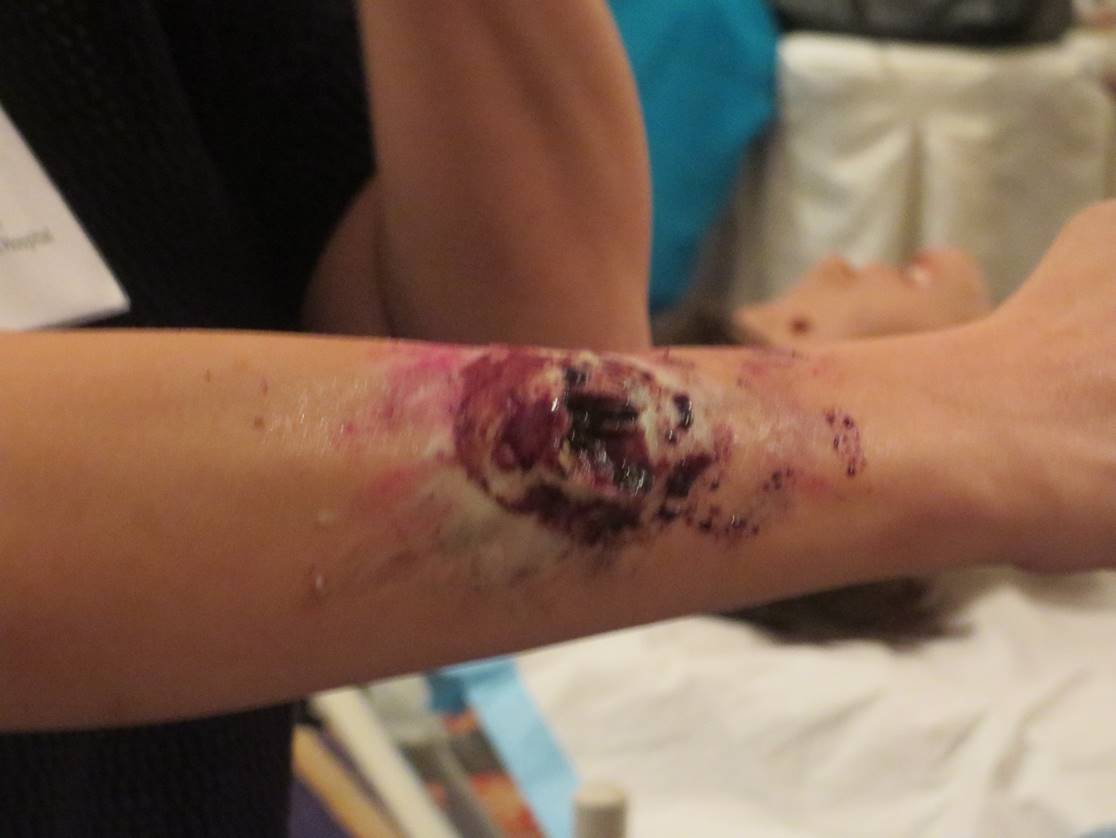 The Moulage Workshop demonstrated the use of theatrical makeup to simulate wounds
Moulage Workshop
One of the most interesting and interactive sessions at the conference was a Moulage Workshop which showed how readily available theatrical makeup can be used to create very realistic simulations of wounds. These techniques are widely used in large scale disaster simulations in which volunteers play the part of wounded citizens and are triaged and treated by the emergency services.
The use of volunteers with simulated wounds and mannequins which are becoming increasingly lifelike and responsive to medical interventions will always form an important part of medical training.
Bangkok International Digital Content Festival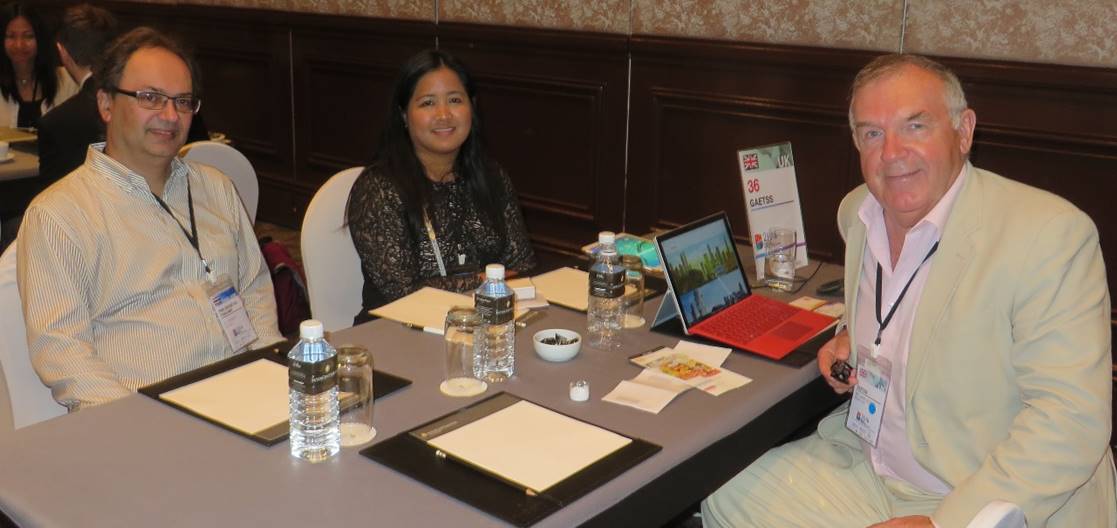 Business Matching Meeting at the Bangkok International Digital Content Festival
The Bangkok International Digital Content Festival (BIDC) is an annual event which celebrates the creative abilities of Thai companies in the areas of film, animation, graphics design and games. BIDC incorporates a lot of parallel activities in various locations and creates a strong brand identity for Thailand's creative economy. This year was the second time I took part in the international business matching event, providing creative Thai companies with a kind of "speed dating" business matching opportunity to explore collaboration between Thai companies and international partners.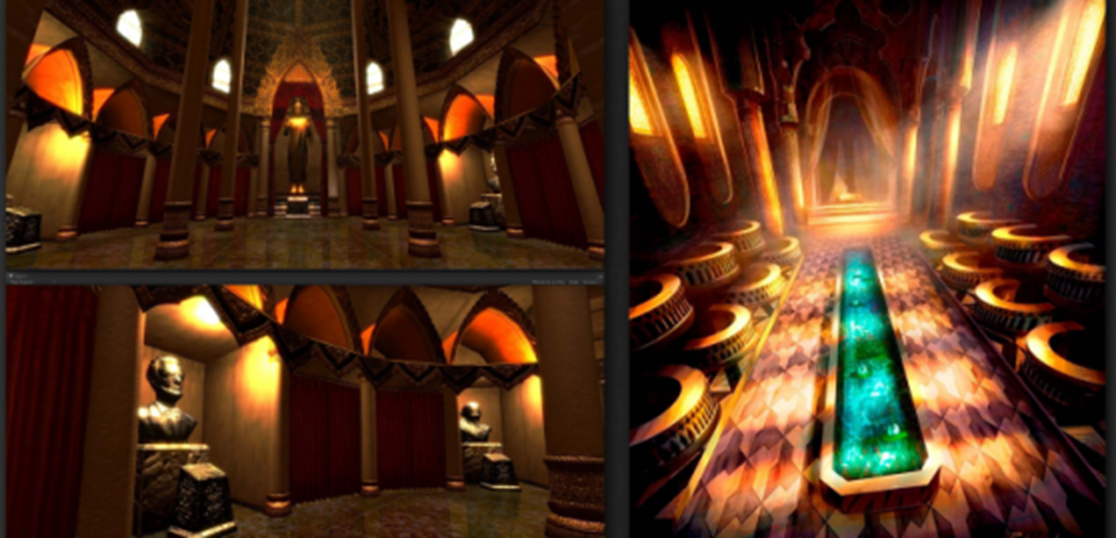 Example of Snoozefox Artwork
I met several very talented Thai creative companies involved in games, animation, virtual reality and graphics design. Their capabilities could add genuine value to European games developers seeking to outsource some of their development work. One example of such a company is SnoozeFox (www.snoozefox.com) who are looking to provide 2D/3D Graphic, Art Design, and Programming for Interactive Applications.
You can view their portfolio at https://dl.dropboxusercontent.com/u/127080497/Snoozefox_Portfolio_2016.pdf and their contact is CEO Ramin Salhani (ramin@snoozefox.com)
For more information about other Thai companies interested in providing outsources services, contact me at david@gaetss.com
Thailand E-Learning Association Workshop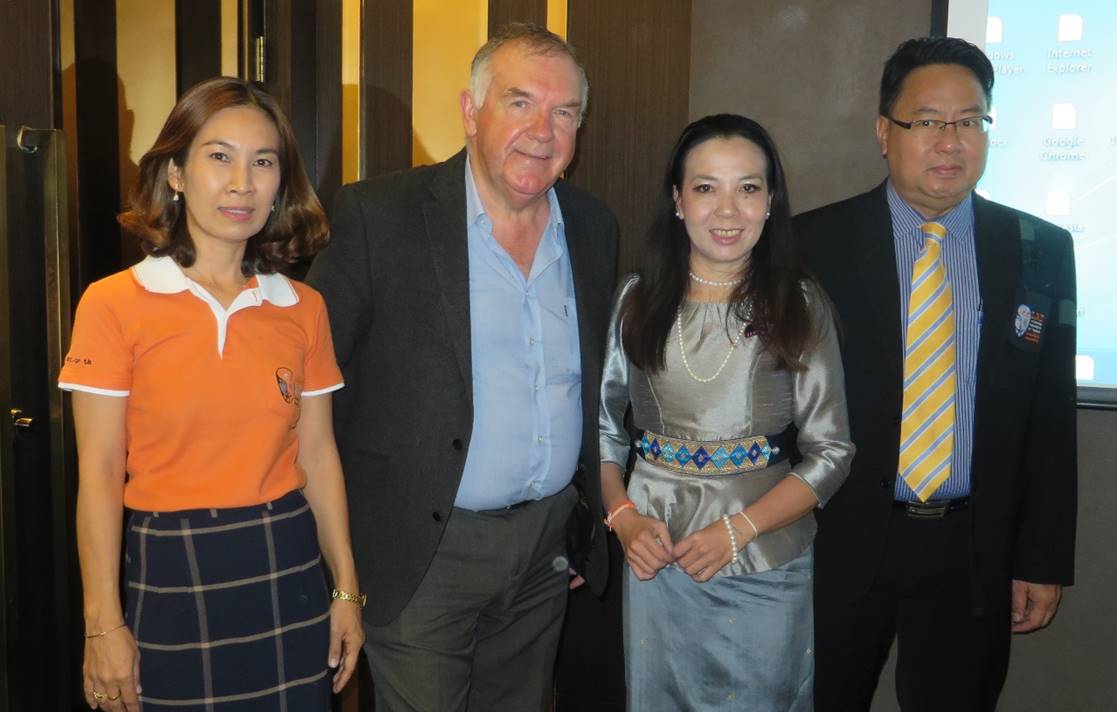 Host and presenters at the E-Learning Association of Thailand (E-Lat) Event in Bangkok
It was my privilege to be invited as a keynote speaker at the Thailand E-Learning Association Seminar event held in Bangkok immediately after BIDC. I spoke on the topic of "The Past, Present and Future of E-Learning and the Impact of Technology". The key message behind my presentation about the evolution of Technology Enhanced Learning is that the role of the teacher in today's education environment has fundamentally changed as increasingly sophisticated computing and communications technologies provide both ready access to current knowledge and embedded student assessment tools.
A s technology encroaches on tasks traditionally managed by human beings, teachers need to concentrate on those human attributes which motivate and inspire students in ways which technology is unlikely ever to match. I also stressed the need to shift education strategies towards more vocational training based on human skills in order to avoid creating large numbers of unemployed intelligent graduates being trained for jobs which in future will be done by machines.
Malaysia's Inaugural Gamification for Education and Health and Well-Being Conference and Exhibition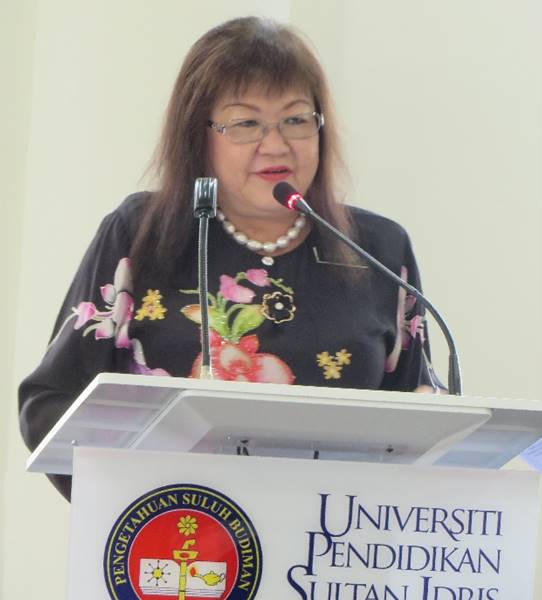 Malaysia's Deputy Minister of Education launching the first Gamification for Education Workshop at UPSI
It was an honour to be the keynote speaker at Malaysia's inaugural Gamification Seminar and Exhibition held at the Universiti Pendidikan Sultan Idris (UPSI) Education Research Laboratory in Tanjung Malim, Perak, Malaysia. The seminar was launched with an opening ceremony by the Deputy Minister of Education YB Datuk Mary Yap Kain Ching who spoke enthusiastically about Malaysia's commitment to advanced education strategies to meet the challenges of the 21st century.
My presentation which covered both the impact of technology on education practices and personal health management was delivered to an audience of staff and student teachers. The event was facilitated by Serious Games Asia, led by Ivan Boo and featured some very interesting and informative presentations from speakers across South East Asia.
The afternoon session featured a remote skype presentation by Lucia Pannese who covered the use of serious games for education and health applications in various European projects such as Rehab@Home, Pegaso and DOREMI (http://www.doremi-fp7.eu/)
To view a copy of my presentation see http://www.slideshare.net/dwortley/gamification-in-education-and-personal-health
Singapore Medical Simulation Lab
Singapore General Hospital's Simulation Lab for training surgical skills
Following the Asia Pacific Healthcare Simulations Conference in Kuala Lumpur, I took the opportunity to visit Singapore's General Hospital Simulation Lab as a guest of one of the conference keynote speakers, Assoc. Professor Fatima Lateef who is a Senior Consultant at the hospital's A&E department. The Simulation Lab is equipped with a full range of the latest equipment and reminded me of a very similar facility of London Imperial College's Teaching Hospital near Paddington Station.
The Simulation Lab has adjacent rooms with one-way mirrors and recording facilities to monitor training scenarios which typically use mannequin dummies. The visit illustrated the importance of debriefing exercises which are an integral part of medical training.
After visiting the Simulation Lab, Assoc. Prof. Lateef showed me round the accident and emergency facilities and discussed the processes in place to deal with pandemics and highly infectious diseases which require special precautions. As a member of the Singapore Parliament, she is also interested in issues such as the Ageing Society and we talked about the European project DOREMI (http://www.doremi-fp7.eu/) which uses Gamification and enabling technologies to address physical and cognitive decline in the elderly.
Health and Well-Being in the Ageing Society
The percentage of younger working population per older non-working citizen is falling rapidly
There are a number of demographic time-bombs primed to have a potentially devastating impact on society in the not too distant future. The Ageing Society phenomenon is one of the most important because it challenges the very sustainability of some very important health services we have come to take for granted in the UK.
I speak from the personal experience of seeing my mother's decline through dementia before she died in a care home at the age of 86. Both myself and my mother were very fortunate that the care services available to her ensured that she was looked after very well when she needed it and that these costs were largely borne by public health services.
With life expectancies increasing and birth rates stagnant or in decline, we are already seeing a drop in the percentage of the working population compared to the population of people over the age of 65. This shift in demographics is already forcing changes in the formal retirement age to avoid the "pensions black hole" and, in the UK at least, there are regular press articles about the quality of care available to the elderly.
Projects such as DOREMI described earlier use Gamification and consumer enabling technologies to promote healthy active ageing and avoid or at least delay the onset of dementia and similar conditions.
My own view is that, as a society, we need to view the ageing population as a potential asset to society rather than an inevitable cost burden which needs to be minimised by using technology to cut the cost of care to a minimum.
Personal health Management for Chronic Conditions such as COPD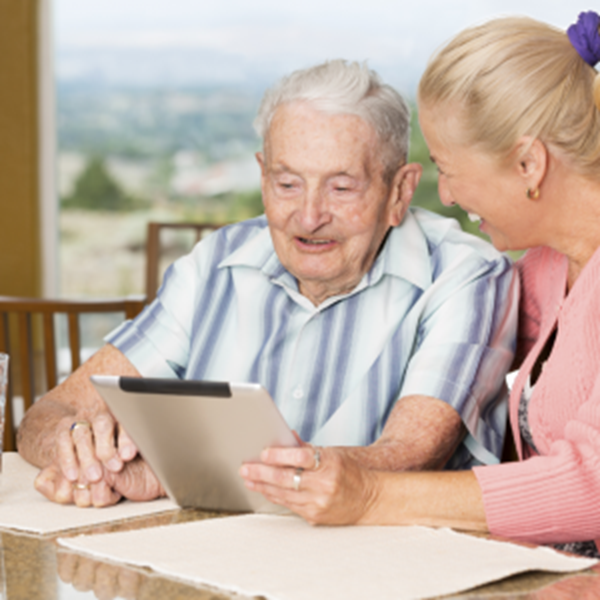 Helping citizens with chronic conditions to better manage personal health is vital for sustainability of Public Health Services
Related to the Ageing Society issue is the provision of facilities for people with chronic conditions such as Chronic Obstructive Pulmonary Disease (COPD) which causes a decline in lung function and has a serious impact on sufferers and their families and carers. I have been collaborating with a UK company, Aseptika, who are based in Huntingdon and whose founders have a clinical education background.
Aseptika (www.activ8rlives.com) design and develop wearable technologies such as the Buddy Band to help citizens to better understand and manage their personal health. Of all the wearable technology providers that I have been exploring, Aseptika have one of the most complete portfolios of consumer devices contributing to a personal health platform designed to not only support preventative healthcare but also to help patients with long term conditions such as COPD to avoid or at least defer decline in health.
See http://www.activ8rlives.com/information/case-studies/ for information on Aseptika case studies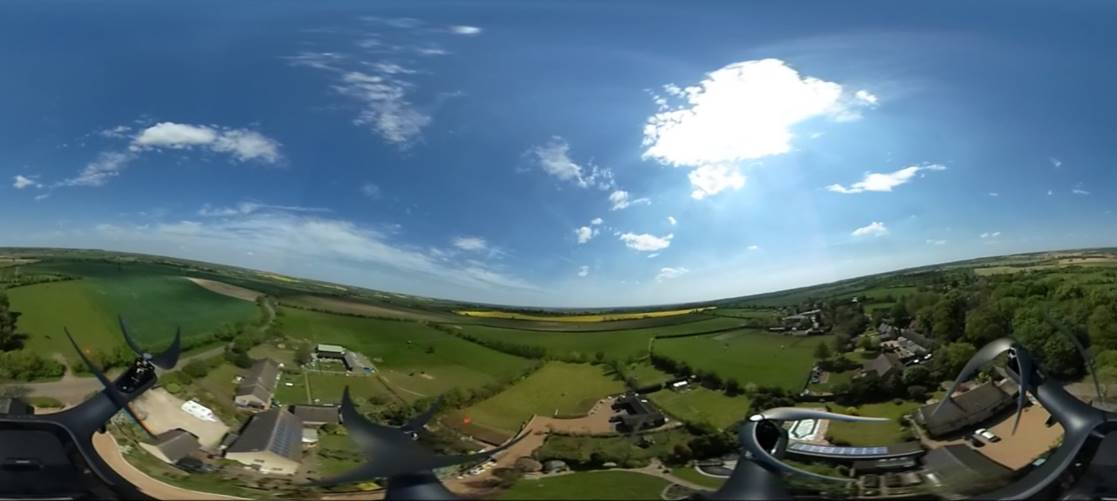 Aerial view of Northants Countryside captured from 360 degree video using Theta S camera and 3DR drone
Following on from last month's exploration of the functionality of both the Theta S 360 degree camera and the 3DR drone, I combined the 2 technologies to try to get a bird's eye aerial video of my local countryside. I was able to mount the Theta S camera on top of the 3DR drone and set the video recording before the drone started its flight to avoid interference between the WiFi functions.
You can view a short video in 360 degrees at https://theta360.com/m/dDgBcuY1UHWXpXi25Hm5TDqOe which was captured as the drone hovered over the Old Barn
June 8th Medilink East Midlands Innovation Day
The Medilink East Midlands Innovation Day is the foremost Life Sciences event in the East Midlands, regularly attracting 250+ delegates and 30+ exhibitors. The day consists of a conference, with top speakers covering hot topics relating to the sector, an exhibition, and a business awards dinner. There will also be plenty of time to network throughout the day.
- Network with the who's who of the Life Sciences sector in the East Midlands
- Catch up with business colleagues and make new connections
- Gain insights from key speakers from across academia, business and the NHS
- Celebrate regional successes at the Medilink East Midlands business awards dinner
For more details of the event go to http://www.medilinkem.com/events/innovation-day-2016
June 17-19 6th Annual Digital Medicine Academic Meeting of Chinese Medical Association
The 6th Annual Digital Medicine Academic Meeting of the Chinese Medical Association takes place in June in Nanjing, China from June 17-19. I have been invited to speak at this conference which boasts a very large international selection of speakers. My presentation will focus on the impact of wearable technologies on personal health management.
For more details of this event go to http://www.bitcongress.com/nccsdm2016/
June 21st TEDx Leicester Salon – Carpe Diem
"Carpe Diem" - Seize the day :
The purpose of life is to live it to taste experience to the utmost, to reach out eagerly and without fear for newer and richer experience" Eleanor Roosevelt.
We have a general problem in our society where we are not fully using our human resources effectively, what can we do to overcome these challenges and how can we seize the day? Come and join the conversation with our speakers who will feed your mind and inspire you with their reflections and experiences
For more details of the event, see https://www.facebook.com/events/216338942084287/
July 7/8 International Symposium on Digital Earth (ISDE)
The International Symposium for Digital Earth 6th Summit takes place in Beijing from July 7-8. The theme of this year's summit is Digital Earth in the era of Big Data.
For details of this event go to http://isde2016summit.org/
The theme of this year's annual Thaisim conference which is being held at Sripathum East University, Chonburi in Thailand is "The power of games, simulations and debriefing to teach more in less time". Thaisim conferences are always memorable events not only for their content and networking opportunities but also for the wonderful hosting.
For more details go to http://www.thaisim.org/ts16/ts2016.html
The VS-Games 2016 conference in Barcelona is the
8th International Conference on Virtual Worlds and Games for Serious Applications. Topics for this year's conference

include :

-
· Alternate reality games
· Virtual environments
· Augmented reality
· Game design
· Animation for serious games and virtual worlds
· AI applications for serious games
· Serious games methodologies
· User-modelling in serious games
· Pervasive gaming
· Interactivity issues
· Visualisation techniques
· Human-computer interaction
· Mobile games
· Education and learning
· Multimedia gaming
· Case studies in serious games and virtual worlds
· Gamification
For more details go to http://vsgames2016.com/
Sept 23/24 Singapore Health and Biomedical Congress
The Singapore Health and BioMedical Congress is flagship international event with top class international speakers which this year will include James Kinross from Imperial College. The theme of this year's conference is "Forging a Sustainable Relationship-Based Healthcare System".
For full details of the event go to http://shbc.com.sg/
Nov 28/Dec 1st SEANES 2016 Ergonomics and Human Factors Conference
The 4th SEANES 2016 Ergonomics and Human Factors conference in South East Asia will be held in Bandung Indonesia. The theme of this year's event will be:- "Green Ergonomics: Sustainability, Productivity, and Well-being". Within this theme, SEANES 2016 Conference supports and expands the application of human factors and ergonomics with regards to recent local and global needs. This international conference aims to enhance the awareness of the importance of Human Factors Engineering (HFE) in various human activities and application domains, including product design, learning, communication, healthcare, transportation, defence and security.
For more details of the event go to https://seanes2016.org/
Below is a selection of current calls for Papers, Posters and Articles that may be of interest :-
………….……………..
The Thirteenth International Conference on Technology, Knowledge, and Society to be held at University of Toronto, Toronto, Canada from 26-28 May 2017 is seeking proposals for papers and presentations.
If you are interested, visit the web site at http://techandsoc.com/2017-conference/call-for-papers
……………………………
The 1st Call for papers for ESM'2016 - The 30th annual European Simulation and Modelling Conference SIANI - Universidad de Las Palmas Gran Canaria - Spain October 26-28, 2016 has been released.
For details of this CFP go to http://www.eurosis.org/cms/?q=taxonomy/term/383
……………………………………
Recent Articles, Presentations and Papers
A comprehensive list of archived articles, presentations and videos can be accessed at my website – http://www.davidwortley.com/listing.html
The most recent updates are shown below :-
Date

Article/Presentation Title

Comments

March 2016

Technology, Knowledge and Society Presentation from Buenos Aires.

View the presentation here

View conference images here

The Technology, Knowledge and Society Conference covered a broad range of topics which examined the positive and negative aspects of technology on the future of society

April 2016

Gamified Wellbeing for all Ages Paper and Presentation for Medicon 2016

View the paper here

View the presentation here

View the conference images here

The Medicon 2016 Conference provided an opportunity to meet academics and practitioners involved in a broad range of biomedical technologies and applications
Below is a list of forthcoming conferences – also accessible at http://www.davidwortley.com/events.html
| | | | |
| --- | --- | --- | --- |
| Date | Event Name / Description | Location | Web URL |
| Jun 8 | Medilink EM Innovation Day | Nottingham, UK | |
| June 17-19 | 6th Annual Digital Medicine Academic Meeting of the Chinese Medical Association | Nanjing | |
| Jun 21 | TEDx Salon – Carpe Diem | Leicester, UK | |
| Jun 21-23 | Immersive Education Italy - 6th Annual European Immersive Education Initiative | Padua, Italy | |
| Jul 25-26 | Systemics, Cybernetics and Informatics: WMSCI 2016 | Bangkok, Thailand | |
| Jun 27 | Games for All - Empowering UK Games Businesses to Go Global | Liverpool, UK | |
| Jun 27 - Jul 1st | Immersive Learning Research Network Conference 2016 | Santa Barbara, USA | |
| Jun 29 | Medilink Digital Health Special Interest Group Workshop, Health and Social Care Data Interface | Leicester, UK | TBA |
| Jul 5-8 | WMSCI 2016, Systemics, Cybernetics and Informatics: | Orlando, Florida | |
| Jul 7 | How to Flip a Classroom and Land on Your Feet Workshop | Coventry, UK | https://www.eventbrite.co.uk/e/how-to-flip-a-classroom-and-land-on-your-feet-tickets-24869780182 |
| Jul 7-8 | ISDE Symposium – Digital Earth | Beijing, China | |
| Jul 28-29 | Thaisim – Games and Simulations for Learning | Bangkok, Thailand | |
| Aug 17-19 | Revolutionary Learning 2016 | New York, USA | |
| Aug 23-26 | Immersive Colorado | Denver, USA | |
| Sept 7-9 | VS Games 2016 | Barcelona, Spain | |
| Sep 13-15 | Eurosis GameOn'2016 | Lisbon, Portugal | |
| Sep 23-24 | Singapore Health and BioMedical Congress | Singapore | |
| Nov 22 | World of Health IT Congress | Barcelona, Spain | http://www.worldofhealthit.org/ehome/index.php?eventid=141909& |
| Nov 28 – Dec 1st | SEANES 2016 Ergonomics and Human Factors | Bandung, Indonesia | |
| May 26-28 2017 | Technology, Knowledge and Society 2017 | Toronto, Canada | |
If you would like any presentations, videos or documents circulated to my network, I am happy to provide this service free of charge for any material relevant to readers of this newsletter. If you are interested, contact me at david@davidwortley.com.
Best Wishes for a Better Future for all Mankind
David Wortley FRSA
Founder and CEO
GAETSS – Gamification and Enabling Technologies Strategic Solutions
Shaping the Future of Business and Society through Human Development and Motivation
Landline: +441327811827
Mobile Phone : +447896659695
Email : david@gaetss.com
Skype: davidwortley
If you no longer wish to receive these newsletters, simply reply with the word UNSUBSCRIBE and I will remove you from the mailing list.