July 2015
Wearable Technologies, Digital Health and Commercial Opportunities
The Dawn of the PDHA (Personal Digital Health Assistant)
Welcome to the GAETSS July 2015 E-Newsletter. This newsletter focuses on some of the latest developments in wearable technologies and the implications for digital health and eCommerce. The last few weeks have seen some significant announcements which provide an insight into the likely disruptive impact of wearable technologies, not just on personal health management but also on commercial opportunities.
· Wearable Technologies, Digital Health and Commercial Opportunities – Dawn of the PDHA
· NHS Innovation Test Beds Call for Partners – FreshStartXX and Taggle
· UK Visit by Prof Ji-Young An from Inje University in Korea
· Lifestyle Devices Update - Jawbone UP3 Fitness Tracker & Withings Activite
o London Futurists Future of Business at Birbeck College
o Future of Business Book Launch at Osborne Clarke, London
o UK ABC Innovate ASEAN Indonesia Event
o August 10-11 Thaisim 2015, Bangkok
o August 11-14 Serious Games Conference, Singapore
o October 5-9 Digital Earth 2015
· The ISDE Video Competition for Young People
· Recent Articles and Presentations
Wearable technologies, Digital Health and Commercial Opportunities
The Dawn of the PDHA (Personal Digital Health Assistant)

Wearable Technologies showcased by Royal College of Arts Students at Imperial College
The last few weeks have seen some interesting developments and product announcements which signpost the increasingly disruptive nature of Internet of Things (IOT) and associated technologies. These developments not only illustrate the massive commercial opportunities that will arise from wireless sensor technologies linked to mobile applications and big data visualisation, they also demonstrate the multi-disciplinary nature of innovation which has too often been neglected by the silo-based mentalities and hierarchical organisational structures that still exist in certain sectors of business and society.
Some stark examples of multi-disciplinary innovation in wearable technologies have been presented to me over the last few weeks. I have often told the story of how my milkman's self-taught part time web development activities opened my eyes to the potential of the internet to empower individuals to innovate ideas which knowledge professionals have been blind to and there are many examples of how creative people in art, performance and music have developed technology solutions which ICT professionals would never imagine. Over the last couple of weeks, I have seen further evidence of exciting applications of technology developed by students at the Royal College of Arts.
Whilst visiting the Imperial College Business School as part of my hosting of Professor J-Young An from Korea (see later article), I saw a showcase display of wearable technologies designed as projects by students at the Royal College of Arts. There were many innovative product ideas showcased there and I have posted a series of pictures on my Flickr site at https://www.flickr.com/photos/davidwortley/sets/72157656049225432

The Doppel Wearable Mood Setter Linked to Heart Rate
The following week whilst I was at the IORMA Summer Reception in London, I was introduced to two young students who graduated from the Royal College of Arts and had developed a new wearable technology which they are launching using Kickstarter funding. The product is called Doppel and its concept is based on using your heart rate measurement to activate a device on your wrist that uses personalised musical vibrations to adjust your mood and help you relax whilst stressed and give you a boost when you are tired. I was very impressed by the idea and you can find out more about Doppel by visiting their web site at :- http://www.tturquoise.com/
The Doppel is also an example of how these technologies are establishing wearable devices as a gateway to many different types of commercial application. Wearable sensor based technologies are moving beyond activity and health monitoring devices designed to visualise your personal health status and thus guide you to better lifestyle activities. They are now entering a phase of more proactive applications which translate your personal data into activities and transactions that use artificial intelligence to "assist" you in a personal way. This next generation of PDHAs will be able (like Doppel) to enable you to adjust your body metabolism either manually or automatically to deal with stress and tiredness. Devices like these will begin to compete with interventions based on drugs or supplements.
Finally, these last few weeks have seen the launch of Apple Pay which allows you to use your mobile phone or Apple Watch to conduct contactless payments. This development is a recognition that personal technologies such as mobile phones and lifestyle trackers are beginning to be accepted as secure devices that help to verify commercial transactions.
NHS Innovation Test Beds Partnership Opportunities
FreshStartXX and Taggle

FreshStartXX and Taggle Expressions of Interest Accepted for NHS Test Beds Partnership Development
I am delighted to announce our successful involvement in the NHS Test Bed program with two connected expressions of interest based on the FreshStartXX technology enabled gamified ecosystem designed to tackle lifestyle related conditions such as obesity and diabetes and the Taggle Platform and infrastructure being developed by my Singapore partners and supported by my Italian Serious Games partners, Imaginary.
The NHS Test Bed process kicks off with an inaugural partnership matching event in London on July 29th where FreshStartXX and Taggle will be showcased alongside potential NHS Test Bed sites so that new collaborative partnerships can be developed with a view to being selected as one of 5 major innovation initiatives for scaleable practices that can make a real difference to public health. These Test Beds are ideal platforms to exploit and disseminate the development work being done in various EU projects I am involved in, including Rehab@Home, DOREMI, and PEGASO.
This means that I will be looking for best of breed partners to collaborate with to create the ecosystem of individuals and organisations wanting to be involved in transforming the nation's health and creating economic opportunities. If you are interested in becoming a partner and have relevant solutions and/or services to address changes in lifestyle behaviour, please contact me at david@gaetss.com.
Visit by Professor Ji-Young An from Inje University in Seoul

Professor Ji-Young An's Meetings during her visit to the UK
It was my pleasure to host Professor Ji-Young An from Inje University in Seoul as my guest for a few days on her first visit to England. I had previously met Professor An through webinars organised by the APAN network which led us to meet face to face on my last visit to Seoul. She was in Europe on a visit to the World Health Organisation in Geneva so I suggested she could extend her stay in Europe to visit England for the first time.
Professor An is a specialist in health informatics and healthcare service design at Inje University which owns and runs 5 hospitals in Korea. During her stay, I arranged several productive meetings beginning with a visit to Coventry University where we met Professor Ala Szczepura who is the Interim Executive Director at the Centre for Technology Enabled Health Research and Professor Pam Kato, Director of the Serious Games Institute.
Later in the week we also met Professor James Barlow at Imperial College Business School and Dave Taylor of Imperial College who is based at St Mary's Hospital in Paddington. Professor Barlow is President of the International Academy for Design and Health and a keynote speaker at their recent annual conference in Hong Kong which Professor An attended. The final meeting was with Tre Azam, the CEO and Founder of MyndPlay with whom I am collaborating on various projects linked to the use of biosensors for wellbeing and personal health management.
If you would like to explore collaboration with Professor An and Inje University in Seoul, contact me at david@gaetss.com.
Lifestyle Devices Update - Jawbone UP3 Health Tracker & Withings Activite

The New Jawbone and Withings Activity Trackers
There have been recent product announcements/updates from 2 of the leading developer of activity trackers and personal health management devices. I have been using both Jawbone and Withings products extensively over the last 2 years and regard them as industry leaders in this sector. The new Jawbone UP device has additional sensors to provide enhanced monitoring of the heart and sleep patterns. The Jawbone UP application is the one I use on a daily basis because it also allows me to easily track diet and nutrition intake as well as providing a "smart coach" facility that uses basic gamification techniques to influence my lifestyle behaviours.
I have also been using the Withings Pulse device which has now been superseded by the Withings Activite which has a form factor more like a traditional watch and now has capabilities to track swimming activities.
Featured Recent Events
London Futurists Future of Business at Birbeck College

Presentation of my Book Chapter at the London Futurists
I was delighted to be invited to be a guest speaker at the London Futurists seminar at Birbeck College where Rohit Talwar and David Wood hosted a series of presentations by contributing authors to the "Future of Business" Book published by Fast Future.
There were some fascinating presentations envisioning the future which you can view at http://londonfuturists.com/2015/06/22/the-future-of-business/
If you would like to order a copy of the book, please click on the link to Fast Future Publishing and use the Discount Code dw1 when ordering.
Dancing with Disruption Book Launch at Osborne Clarke, London

Images from the "Dancing with Disruption" Future of Business Book Launch in London
The main launch event for the Future of Business Book was held on June 23rd at the offices of Osborne Clarke in London. Rohit Talwar, the book's author, introduced "mega star" futurists Gray Scott (USA) and Gerd Leonhard (Switzerland) who provided a snapshot of their contributions to this insightful book.
UK ABC Innovate ASEAN Indonesia Event
Images from the Innovate ASEAN Event in London
UKABC – The UK ASEAN Business Council organise regular events designed to support UK companies wishing to develop commercial opportunities within the ASEAN region of Asia. I attended an event on June 23rd in London to explore connections with the city of Bandung in Indonesia and to see presentations from excellent speakers which included Ridwan Kamil, the Mayor of Bandung outlining his vision for a Smart City and Alan Greenberg, Former Head of Education at Apple describing the impact of technology on education. I made some interesting new contacts at the event. For more detail, visit the UKABC site at http://www.ukabc.org.uk/event-news/events/london-_-seminar-_-innovate-asean_-bandung-city_-indonesia-_-looking-to-the-future/
The IORMA Summer Reception at POWA in London

Images from the IORMA Summer Reception held at POWA HQ in London
The last but not least event I attended in the last month was the IORMA Summer reception held at the impressive offices of POWA high above the City of London's Billingsgate area. There were over 100 delegates joining the event with some very productive networking opportunities. A brief presentation pitch was delivered by POWA to showcase their mobile ecommerce platform that simplifies and speeds up secure transactions on mobile phones through the intelligent use of QR codes.
The highlights of my evening were meeting Ushma Patel of QuillContent, Anu Khurmi of Templar Execs and Jack Hooper and Nell Bennett, Founding Directors of TTURQUOISE, the innovators of the DOPPEL wearable device described earlier in this newsletter.
IORMA membership offers substantial networking, business development and industry insights. If you are interested in joining IORMA, please email me at david@gaetss.com.
August 10-11 Thaisim 2015, Bangkok
The Thaisim Conference on Games and Simulations for ASEAN Education is a much anticipated annual event for me as it brings together some of the best practitioners of games-based learning in a conference which always has wonderful cultural experiences and excellent hospitality. To learn about Thaisim and to register for the conference go to http://www.thaisim.org/ts15/ts15.htm
I will be one of the keynote presenters talking about Gamification in education practices.
August 11-14 Serious Games Conference, Singapore
Following on from and slightly overlapping Thaisim is the Serious Games Conference in Singapore where I will also be delivering a presentation on healthcare technologies and gamification The web site for the conference is at http://2015conf.seriousgamesconference.org/
October 5-9 Digital Earth 2015, Halifax, Nova Scotia
Towards a One-World Vision for the Blue Planet
Digital Earth concerns the integrated use of digital technologies to monitor, map, model, and manage our planet's environments. The Digital Earth vision was first proposed by Al Gore in 1998, and has evolved to keep pace with rapid developments in earth-sensing, cloud computing, and Big Data. ISDE now espouses a more dynamic view of Digital Earth as the digital nervous system of the globe, using sensor networks and situation-aware systems to inform in real-time about events on or close to the Earth's surface.
The ISDE Video Competition for Young People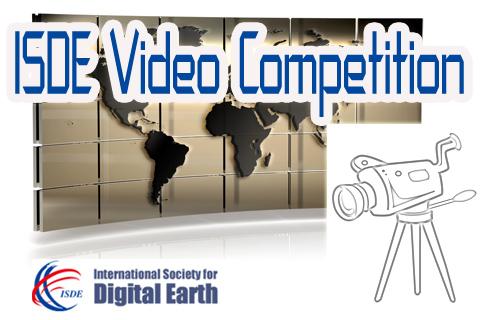 The 9th International Symposium for Digital Earth is running a competition for young people :-
The Video competition is organized by the ISDE Young Scientist Committee. We will start the 1st competition in 2015 and the winners will be announced in Canada, during the 9th ISDE Symposium.
Aim: We wish to promote the creative representation of the Digital Earth in virtual form by young people, in order topublicize and promote the vision and capabilities of Digital Earth. We aim to involve more young people in Digital Earthactivities, and thereby increase the popularity of the ISDE. The best videos will be distributed by electronic media to everybody interested in the development of the ISDE.
Award: The ISDE will award the winner(s) every two years, during the ISDE Symposium.
For more details visit http://www.digitalearth-isde.org/news/744
At Digital Earth 2015 up to 1,000 scientists, engineers, technologists, and environmental managers from around the world will meet to share concepts, research findings, technologies, and practical applications relating to the Digital Earth vision. Our conference will include themes from the entire spectrum of the Digital Earth vision, and will highlight applications related to Nova Scotian expertise in ocean and atmospheric sciences.
Register for ISDE 2015 at http://digitalearth2015.ca/
Below is a selection of current calls for Papers, Posters and Articles that may be of interest :-
………….……………..
GALA (Games and Learning Alliance) Conference 2015 in Rome, Italy. The Games and Learning Alliance conference (GALA 2015) is an international conference dedicated to the science and application of serious games. The conference aims at bringing together researchers, developers, practitioners and stakeholders. The goal is to share the state of the art of research and market, analysing the most significant trends and discussing visions on the future of serious games. See http://www.galaconf.org/
……………………………
The 1st ICA European Symposium on Cartography (EuroCarto 2015), which will take place in Vienna on November 10-12, 2015.
EuroCarto 2015 aims to bring together cartographers, GI scientists and those working in related disciplines with the goal of offering a platform of discussion, exchange and stimulation of research and joined projects.
The call for papers is currently open. The deadline for Full paper submissions is June 1, 2015, and work in progress submissions is June 29, 2015. High-quality submissions are intended to be published in the International Journal of Cartography and in a book of the series Lecture Notes on Geoinformation and Cartography by Springer. More information can be found at http://eurocarto.org/.
……………………………………
Second Call for Abstracts and Special Sessions 9th Symposium of the International Society for Digital Earth
DIGITAL EARTH 2015 "Towards a One-World Vision for the Blue Planet"
Halifax, NS, CANADA, October 5-9
Interested contributors should submit their abstract or proposal for a special session by April 17. Submission details can be found under the Program menu tab at digitalearth2015.ca. Abstracts and proposals will be promptly considered by the Scientific Program Committee
………………………………………………………..
A comprehensive list of archived articles, presentations and videos can be accessed at my website – http://www.davidwortley.com/listing.html
The most recent updates are shown below :-
Date

Article/Presentation Title

Comments

June 2015

London Futurists Video Presentation of Wearable Lifestyle Technologies and their Impact on Business and Society

This is a recording made at Birbeck College at the London Futurists event for the Launch of the Future of Business Book

June 2015

Gamification and Wearable Lifestyle Technologies Slide Presentation

The slide presentation made at Birbeck College for the London Futurists.

April 2015

Impact of Gamification and Enabling Technologies on Business and Education

This presentation was delivered at the BIT International Congress in Shenzhen in Chine in April 2015. It examines the impact of gamification and enabling technologies on the future of education practices and the role of teachers working with "Generation Q" students.

April 2015

Childhood Obesity and Serious Games

Integrating Gamification and Lifestyle Technologies for Better Personal Health Management

This presentation was delivered as an online webinar in Seoul as part of the APAN events programme.
Below is a list of forthcoming conferences – also accessible at http://www.davidwortley.com/events.html
| | | | |
| --- | --- | --- | --- |
| Date | Event Name / Description | Location | Web URL |
| July 22-24 | 9th International Conference on Computer Graphics, Visualization, Computer Vision and Image Processing | Los Palmas de Gran Canaria, Spain | |
| July 24-26 | World Future 2015 | San Francisco, USA | |
| July 26-27 | Cloud Technology and Computing | Macau | |
| Aug 10-11 | Thaisim 2015 - Learning from educational games, simulations and debriefing for the AEC | Bangkok, Thailand | |
| Aug 11-14 | SGSC 2015 - Serious Games Conference | Nanyang University, Singapore | |
| Sep 5 | London Futurists - Digital Disruption within Education | London, UK | |
| Sept 7-10 | IED 2015 – Immersive Education Initiative | Paris, France | |
| Sep 8 | Next Steps for Creative Industries in Scotland | Edinburgh, Scotland | http://www.scotlandpolicyconferences.co.uk/forums/agenda/creative-scotland-agenda.pdf |
| Sep 8-9 | EEE 2015 2nd International Conference on E-Commerce, E-Business and E-Service | Singapore | |
| Sep 16-18 | SG 2015 Serious Games Conference | Novedrate, Italy | |
| Sep 24-25 | Immersive Technologies and Learning Session at CEEC 2015 | Colchester, Essex | |
| Sep 24-25 | Innovation in environmental education: ICT and intergenerational learning | Firenze, Italy | |
| Oct 1-2 | 7th International Conference on Science in Society | Chicago, USA | |
| Oct 5-9 | DIGITAL EARTH 2015 "Towards a One-World Vision for the Blue Planet" | Halifax, Nova Scotia | |
| Oct 8-9 | 9th European Conference on Games Based Learning ECGBL 2015 | Steinkjer, Norway | http://academic-conferences.org/ecgbl/ecgbl2015/ecgbl15-home.htm |
| Oct 20 | Westminster Forum - Conference on UK video games: policy, funding, technology, skills and areas for growth | London, UK | http://www.westminsterforumprojects.co.uk/forums/book_event.php?eid=1079 |
| Oct 26-28 | 29TH EUROPEAN SIMULATION AND MODELLING CONFERENCE - ESM'2015 | Leicester, UK | |
| Nov 2-3 | Games for Health Europe | Utrecht, Netherlands | |
| Nov 3-5 | WISE 2015 - World Innovation Summit on Education | Doha, Qatar | |
| Nov 10-11 | SAI Intelligent Systems Conference 2015 (IntelliSys 2015) - | London, UK | |
| Nov 26 | Media for the Millennials: youth audience insights, content innovations and strategic priorities | London, UK | http://www.westminsterforumprojects.co.uk/forums/agenda/media-millennials-2015-agenda.pdf |
| Dec 2-4 | GAMEON'2015, the 16th annual GAMEON Conference on Simulation and AI in Computer Games | Amsterdam, Netherlands | |
| Dec 3-5 | Segamed 2015 | Nice, France | |
| Dec 11-12 | GALA - Games and Learning Alliance Conference | Rome, Italy | |
| Jan 26-27 | iLearning Forum | Paris, France | |
| Feb 18-19 2016 | Twelfth International Conference on Technology, Knowledge, and Society | Buenos Aires, Argentina | |
If you would like any presentations, videos or documents circulated to my network, I am happy to provide this service free of charge for any material relevant to readers of this newsletter. If you are interested, contact me at david@davidwortley.com.
Best Wishes for a Better Future for all Mankind
David Wortley FRSA
Founder and CEO
GAETSS – Gamification and Enabling Technologies Strategic Solutions
Shaping the Future of Business and Society through Human Development and Motivation
Mobile Phone : +447896659695 (UK)
Email : david@gaetss.com
Skype: davidwortley
If you no longer wish to receive these newsletters, simply reply with the word UNSUBSCRIBE and I will remove you from the mailing list.