<![if !vml]>

<![endif]>
September 2017
360in360 Immersive Experiences Launch, Celebrating Culture and Heritage,
New 360 Degree Cameras Reviewed, Museum Experiences, Spatial Audio
Facebook and Gamification Strategies, Immersive Education Italy,
UKTI Mission to Singapore Robotics Opportunity, Facebook Live 360,
 Insta360 ONE "Bullet Time", Reeperbahn Festival and NEXT panel on Virtual Reality
Medilink Gamification Special Interest Group Meeting
Recent Articles and Presentations, Future Events Listing
 
Welcome to the GAETSS September 2017 Newsletter. This newsletter is one of the most significant for the future development strategy of GAETSS and represents a "soft-launch" of a major new initiative to develop a global ecosystem of win-win partnerships of creative talent committed to the use of immersive technologies, storytelling and gamification to celebrate extraordinary people, places and experiences.
I am looking for partners to collaborate with me locally and internationally to develop this ecosystem. If this is of interest to you, please visit the new web site at www.360in360ix.co.uk and/or its Facebook page at https://www.facebook.com/360in360IX-132301944162271/
In this Edition
<![if !supportLists]>· <![endif]>360in360 Immersive Experiences Launch
<![if !supportLists]>· <![endif]>Celebrating Culture and Heritage
<![if !supportLists]>· <![endif]>New 360 Degree Cameras Reviewed
<![if !supportLists]>· <![endif]>Museum Experiences
<![if !supportLists]>· <![endif]>Spatial Audio
<![if !supportLists]>· <![endif]>Facebook and Gamification Strategies
<![if !supportLists]>· <![endif]>Immersive Education Italy
<![if !supportLists]>· <![endif]>Singapore Robotics Expo Trade Mission
<![if !supportLists]>· <![endif]>Facebook Live 360
<![if !supportLists]>· <![endif]>Insta360 ONE "Bullet Time"
<![if !supportLists]>· <![endif]>Reeperbahn Festival and NEXT Panel on Virtual Reality
<![if !supportLists]>· <![endif]>Medilink Gamification Special Interest Group Meeting
<![if !supportLists]>· <![endif]>Recent Articles and Presentations
<![if !supportLists]>· <![endif]>Future Events Listing
360in360 Immersive Experiences Launch
<![if !vml]>
<![endif]>
The banner for the 360in360ix web site
I am very excited to announce the launch of a brand new enterprise which aims to make use of my experience of gamification and enabling technologies to develop an ecosystem of international partners passionate about the use of technology to celebrate extraordinary people, places and experiences. 360in360 Immersive Experiences is about leveraging the potential of fast emerging devices like 360 degree cameras and drones through storytelling and gamification to record and share personal experiences with a global audience – to make accessible what previously has been inaccessible.
Enabling and empowering technologies have played a big part in my life and the challenge has always been to identify when these technologies are sufficiently mature and functional to be viable and attractive to the market opportunity. I had my first experience of what today would be recognised as Virtual Reality in about 1992 when I came across a company called Virtuality which was based in the city of Leicester. The team behind Virtuality worked at Leicester Polytechnic and they showed me a VR headset for use in a simulator and a demonstration of VR in education in which students in different countries could connect in a virtual space to learn languages together. It was very advanced for its time but it was limited by the capabilities of key enabling technologies such as telecommunications, processing power and graphics.
Enabling technologies were a critical part of the National Presentation Network that I set up in partnership with Prontaprint in the UK in 1992. This was probably the first digital imaging service network of its kind and it was made possible by a device which is now obsolete – the Diskfax, a machine that facilitated the transfer of files from floppy disks from one site to another with guaranteed data integrity.
In the late 1990s, inspired by social entrepreneur Thomas Cook, I used the enabling technologies of the early internet to set up the Community Commerce and Knowledge Network (ComKnet) as a project to encourage knowledge sharing and commerce within rural communities and, as part of this, I came to combine community radio with virtual classroom and teleconferencing to pilot the "Radio with Pictures Show" which brought together people from around the world to share their experiences.
My passion for people, places and experiences and my instinct for key enabling technologies has led me to launch 360in360IX as a vehicle for using 360 degree video, images and sound to celebrate culture and heritage from around the world. I have begun sharing my archive of 360 degree videos and images in Facebook Pages linked to education, culture, heritage and tourism experiences and am currently interviewing individuals who have inspired and influenced me with the aim of sharing their extraordinary stories and creating new win-win relationships enabled and empowered by this cocktail of technologies, storytelling and gamification.
I am delighted to have a number of these individuals in a growing team of talented people who can offer their special skills to this enterprise as members of my Advisory Board. I am especially delighted to be collaborating with Martyn Ware, one of the leading global authorities on spatial sound and music with many iconic installations to his name and that of his company, Illustrious. I am also pleased and fortunate to be able to welcome Storyteller and Songwriter Steve Thompson, Stenographer and Transcriber Claire Williams, Games-based Learning specialists Vinod Dumblekar from India, Songsri Soranastaporn from Thailand, John Welsh from Australia, Lucia Pannese from Italy and Ivan Boo from Singapore with others to follow.
Please check out the www.360in360ix.co.uk web site and visit the Facebook Pages with the 360in360 brand e.g. 360in360 Museums.
Celebrating Culture and Heritage
A 360 Degree Still image taken at Hatfield House
The latest disruptive immersive technologies offer enormous potential for celebrating and sharing culture and heritage when combined with storytelling narratives and engaging sound and music. The use of 360 degree video, images and sound/music and fast broadband and wireless networks can make cultural assets accessible to a global audience in ways which allow virtual visitors to freely explore historic and iconic places supported by information links to key points of interest. However, the 360in360 Immersive Experience proposition is much richer because it is based on human stories and narrative designed to encourage the visitor to want to explore extraordinary people, places and experiences physically and in person.
Where this is not possible because the people, places and experiences no longer exist, today's immersive technologies create unprecedented opportunities not only re-create those long gone cultural assets but also to capture and preserve existing extraordinary people, places and experiences for future generations.
Working with creative talent like Martyn Ware and Steve Thompson, we also want to use these immersive technologies to enhance and innovate physical spaces such as museums, exhibitions and heritage sites.
Visit our Facebook Page site for railway heritage as an example.
New 360 Degree Cameras Reviewed
<![if !vml]>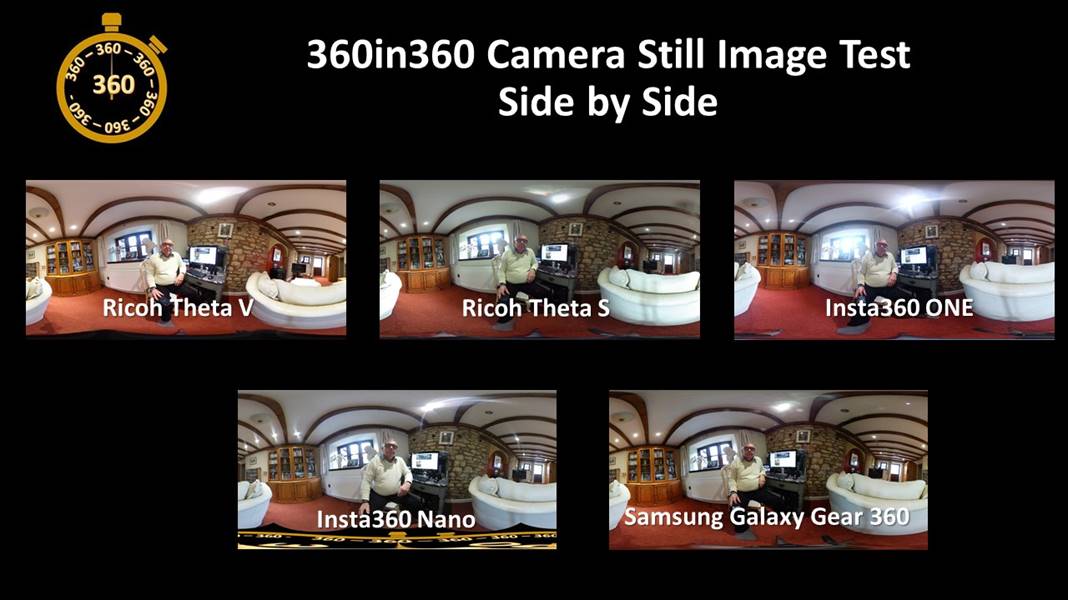 <![endif]>
Side by side Comparisons of five 360 degree camera images
I have been conducting a series of tests with five different 360 degree cameras, the Insta360 Nano and ONE cameras, the Samsung Gear 360 2017 and the Ricoh Theta S and Theta V. Each camera has strengths and weaknesses for different applications which I am publishing examples of on the 360in360 Technology Facebook Page.
The tests that I have carried out for these cameras include still image quality which you can compare via a Camera Comparison Virtual Tour, Live streaming tests (on Insta360 and Gear 360 cameras), Spatial Audio test (on the Ricoh Theta V) and aerial video tests.
I love the Insta360 cameras for their value for money and functionality. I tend to use the Gear 360 2017 for live streaming because of its use of use and connectivity and for recording in high quality video and audio, my preference is the new Theta V with its microphone aaccessory.
For all the cameras, I have discovered a combined selfie stick/tripod made by Smatree that fits easily into my bag and comes with an adapter for holding smartphones with the Insta360 cameras attached..
Museum Experiences
<![if !vml]>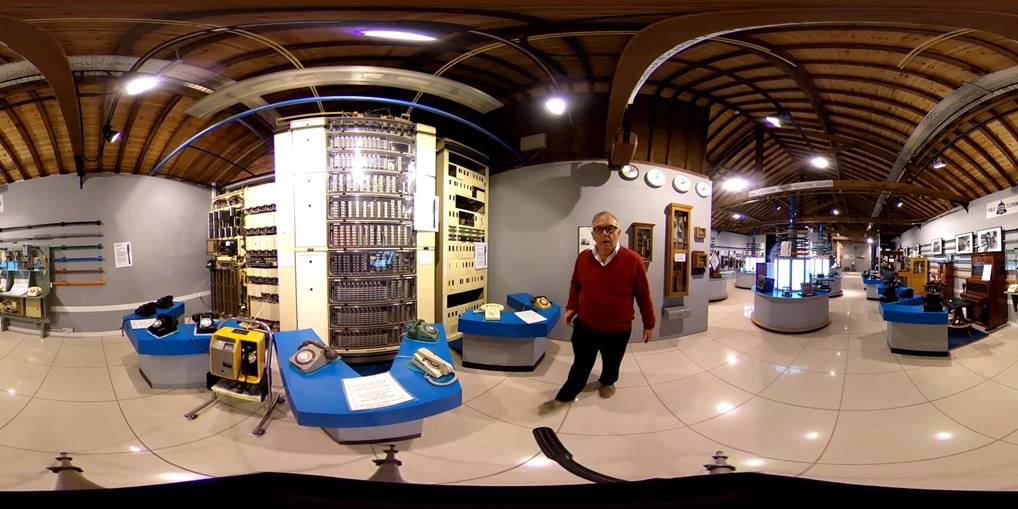 <![endif]>
The Milton Keynes Museum Telephony Area
Over the last month, I have been visiting local museums to explore the potential of 360in360 technologies, storytelling and gamification to support museum experiences. I am grateful to the National Museum of Computing at Bletchley Park and the Milton Keynes Museum for allowing me to conduct tests of the 360 cameras and applications in support of museums.
I have published a range of these applications on the 360in360 Museums Facebook Page. These applications include Blogs to record personal experiences, Interviews of Museum staff, Virtual Tours, Videos and live streaming.
<![if !vml]>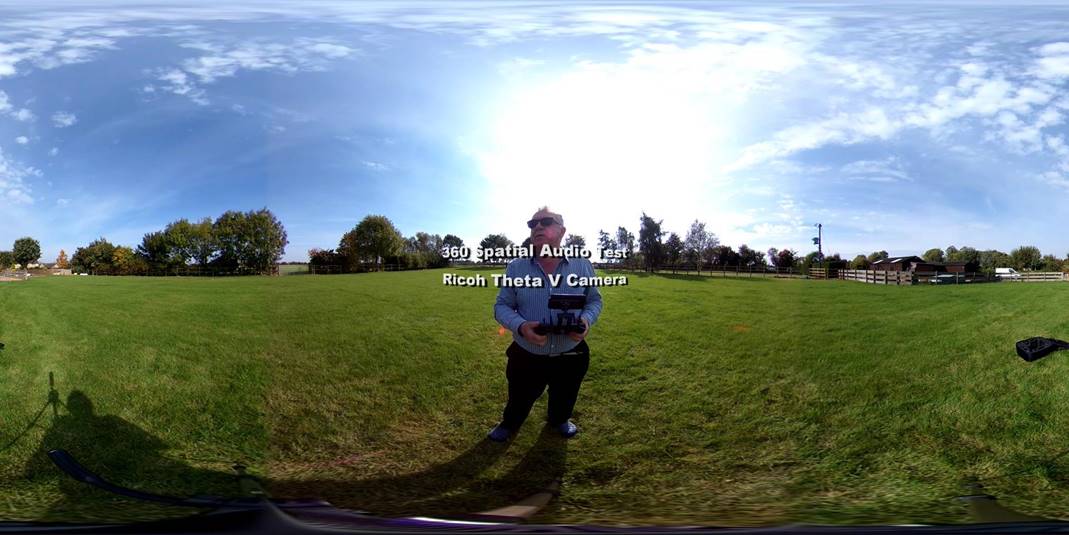 <![endif]>
A still from the Youtube Video of the spatial audio test
The latest 360 video camera from Ricoh, the Theta V, has spatial audio to enhance 360 degree videos with immersive sound. I have carried out some experiments with the camera to check out the results. These results have been published in a YouTube Video. The conclusion that I reached from these tests is that the "processed" video straight from the Theta V gives a very impressive spatial, 360 degree audio experience on normal PC headphones but when the video is edited (I use Cyberlink PowerDirector 16.0 for 360 editing) for publishing to the internet social media platforms, the compression needed to be able to stream the video files over normal broadband reduce the impact of the spatial audio, even when the "surround sound" option is chosen.
Even so, the audio experience with standard headphones is quite reasonable. My intention is to work with the spatial audio gurus at Illustrious to be able to provide both effective streamed immersive experiences and really immersive physical installations.
Facebook and Gamification Strategies
<![if !vml]>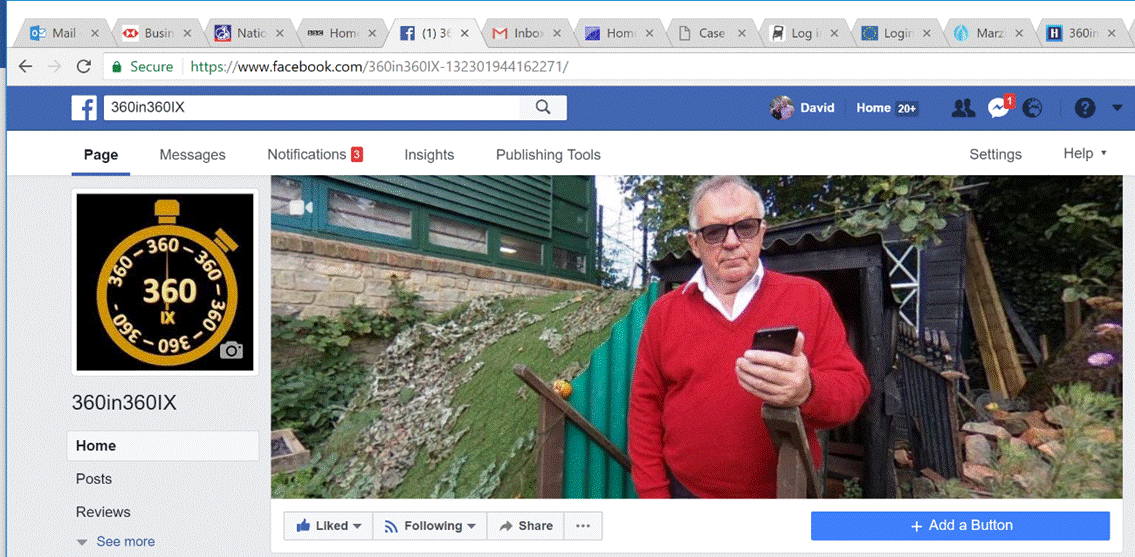 <![endif]>
A screenshot of the 360in360IX Facebook Page
Gamification has been an important part of business development since the dawn of time. Every human activity can be viewed through a gamification lens and my White Paper on the Theory and Practice of Gamification covers this and the elements and influencers in gamification strategies. Here I share my views on how Facebook uses gamification as a powerful development tool.
Gamification has unfortunately be too much associated with extrinsic rewards such as points and badges as mechanism to encourage engagement and behavioural change. The way Facebook is now using Gamification is a powerful example of a best practice. Facebook uses primary gamification elements of Attractiveness, Accessibility and Affordability to encourage user behaviour which is creating an ecosystem of win-win relationships. This ecosystem challenges potential users to generate traffic to their pages and offers powerful tools to assist in this, including what I think is the best interface for live streaming of both normal mobile video and 360 video applications.
Immersive Education Italy 2017
Immersive Italy Summit in November 2017
The Immersive Education Italy Summit is the planned venue for a full launch of the new 360in360 Immersive Experiences enterprise as well as an opportunity to capture and share some of Italy's rich cultural heritage. I will be running a practical workshop on the use of 360 degree technologies, storytelling and gamification in education. This will involve delegates experiencing an example of such an exercise as well as hands-on demonstrations of different 360 degree cameras, accessories and associated applications.
I also plan to use the time to capture some of the wonderful Italian cultural heritage in Lucca, Pisa and Florence for the 360in360 Tourism Facebook Page.
UKTI Mission to Singapore Robotics Expo
<![if !vml]>

<![endif]>
Screenshot from the Singapore Robotics Expoe Conference and Exhibition
I have been asked to share information about a trade mission opportunity for UK companies to exhibit at the Singapore Robotics Expo Conference on November 2-3. There are opportunities for UK companies to have free space on a UK stand at this interesting Expo event.
If you are interested in taking advantage of this export opportunity, Please contact Elsie Yim by email at the Singapore UK Trade and Investment Office
<![if !vml]>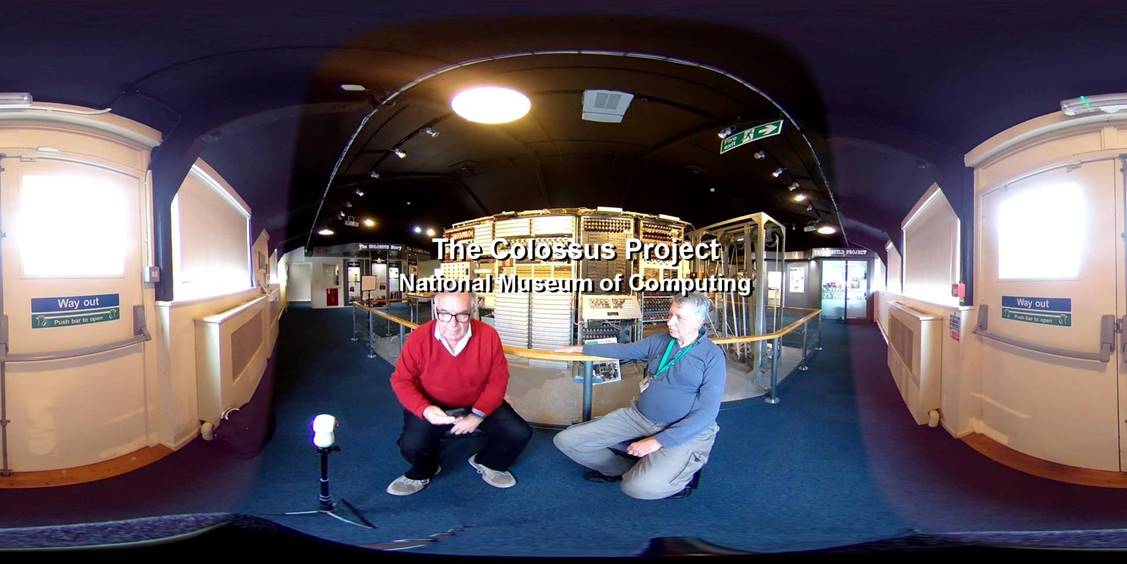 <![endif]>
Live interview in 360 degrees available in Facebook
Using some of my new 360 degree cameras, I have been exploring the use of Facebook Live to stream 360 degree video in a variety of different locations, scenarios and applications. The various results of these tests can be viewed on the 360in360 Streaming Facebook Page. An increasing number of social media and video content service companies are now offering not only 360 degree video content hosting but also an ability to live stream events in 360 degrees over the internet.
When you consider that television outside broadcasting usually requires a big mobile unit and satellite dish, except for an increasing use of tools like skype in hostile environments, the ability to share a live experience in 360 degrees with just a smartphone, mobile network and a consumer 360 camera like the Insta360 Nano and ONE or the Samsung Gear 360 is just amazing.
When I first got my Ricoh Theta S camera several months ago, I explored its use to stream 360 video into YouTube. It is possible to connect 360 degree cameras with a USB output port to a desktop PC or laptop. I have to say that I found the setup quite complex and unreliable.
Now I am able to stream live 360 video almost on demand from anywhere with a good mobile signal from my smartphone and one of the three cameras mentioned above. Although the video and audio quality is not always good, it does work and it is very easy to do and I envisage that live 360 video streaming will become very popular.
Live 360 degree streaming is just one of the services offered by 360in360IX.
Insta360 ONE "Bullet Time" Videos
<![if !vml]>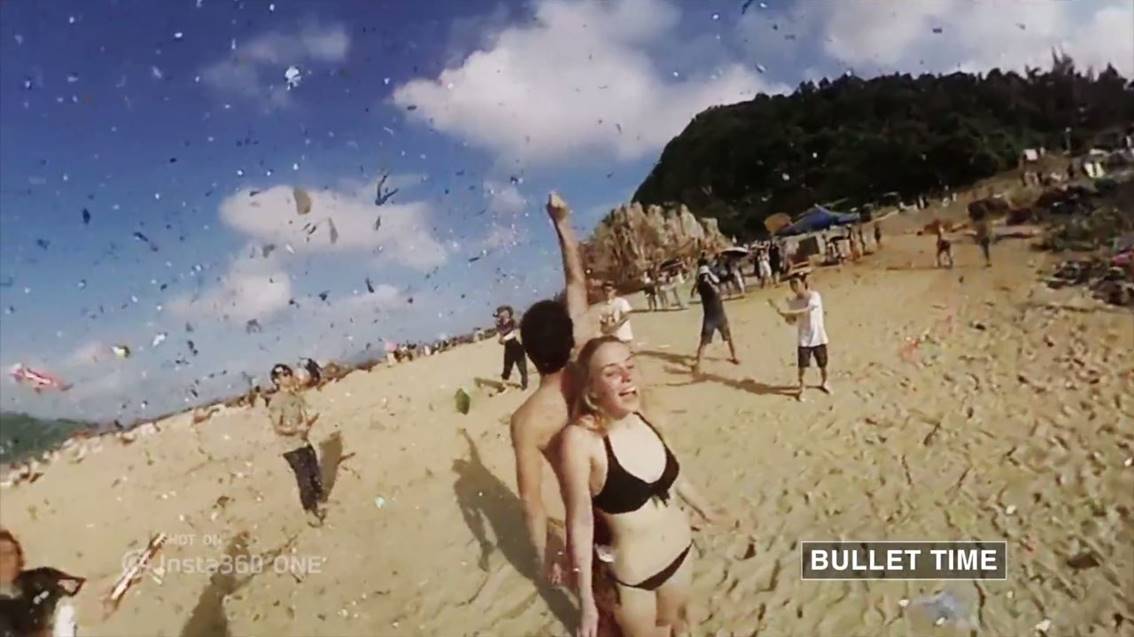 <![endif]>
A still image from an Insta360 Bullet Time Video
One of the remarkable new features of the Insta360 ONE camera reviewed in my last newsletter is "Bullet Time". By attaching the Insta360 ONE camera to a string or steel wire and setting it to record at the high frame rate required, you can get an amazing effect of the camera rotating in a complete circle around you. I have recorded a couple of examples outside my home and posted the results on the 360in360 Technology Facebook Page.
Reeperbahn Festival and NEXT Panel on Virtual Reality
<![if !vml]>
<![endif]>
Still image from a 360 degree video recording of the NEXT Virtual Reality Panel at the Reeperbahn Festival
I was honoured to be invited to take part in an expert panel discussion at the Reeperbahn Festival in Hamburg On September 21st. The panel was part of the NEXT program of presentations and discussions about the impact of digital technologies on our future. The quality of the video recording of this panel session is not good because of the sound and lighting environment at the DOME venue but the discussion was lively and focused on both the positive and negative aspects of VR, in particular its possible impact on neurological conditions such as Autism.
Medilink Gamification Special Interest Group Meeting
<![if !vml]>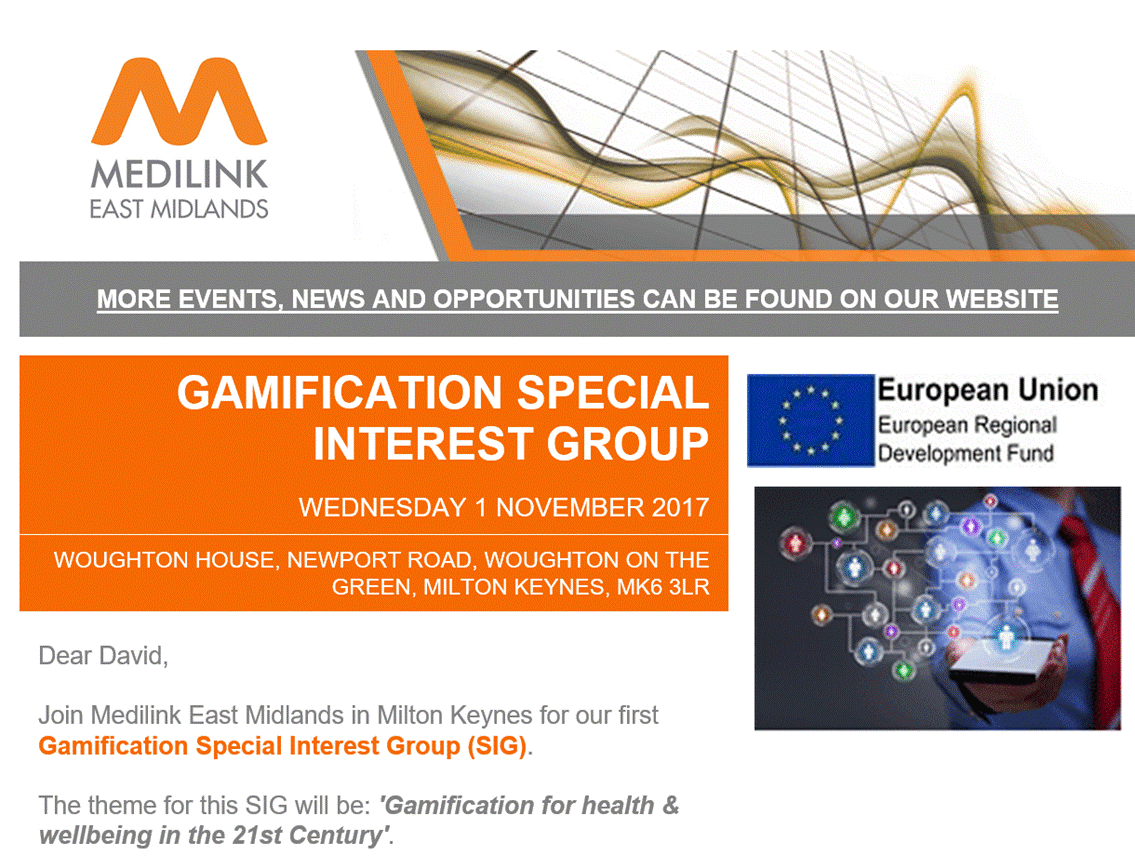 <![endif]>
One of the interesting upcoming events is a Medilink East Midlands Gamification Special Interest Group (SIG) on the theme of "Gamification for health and well-being in the 21st Century. This would normally be an obligatory event for me to attend and/or share my experiences at but I am already committed to speak at an international conference in China on November 1st.
You can register for this event at http://www.medilinkem.com/events/events-list/2017/11/01/default-calendar/gamificationSIG011117
Recent Articles, Videos, Presentations and Papers
A comprehensive list of archived articles, presentations and videos can be accessed at my website – http://www.davidwortley.com/conferences.html
The most recent updates are shown below :-
Below is a list of forthcoming conferences – also accessible at http://www.davidwortley.com/events.html
| | | | |
| --- | --- | --- | --- |
| Date | Event Name/ Description | Location | Web URL |
| Oct 11-12 | Digital Marketing in Healthcare | London, UK | http://www.wplgroup.com/aci/event/digital-marketing-in-healthcare/ |
| Oct 17-18 | World of Learning Conference | Birmingham, UK | |
| Oct 18 | Westminster Forum - Technology in Higher Education | London, UK | http://www.westminsterforumprojects.co.uk/conference/tech-in-HE-17 |
| Nov 1 | Medilink Gamification SIG Meeting | Milton Keynes, UK | http://www.medilinkem.com/events/events-list/2017/11/01/default-calendar/gamificationSIG011117 |
| Nov 1-3 | BIT 5th Global Health Conference | Taiyuan, China | |
| Nov 2-3 | Singapore International Robotics Expo Conference | Singapore | https://www.sire.com.sg/ehome/sire2017/singapore-international-robo-expo |
| Nov 9-11 | WCBME 2017 - World Congress on Biomedical Engineering | Xian, China | |
| Nov 14-16 | 2017 WISE Summit: "Co-Exist, Co-Create: Learning to Live and Work Together | Doha, Qatar | http://www.wise-qatar.org/2017-summit-education-coexist-cocreate |
| Nov 16-19 | Immersive Italy – IED European Summit | Pisa, Italy | |
| Nov 28-30 | GIANT Health Conference 2017 | London, UK | |
| Dec 7-8 | VRX Conference and Expo | San Francisco, USA | |
| Dec 12-13 | UK Digital Healthcare Transformation Summit | London, UK | |
| Jan 21-24 2018 | R&D Data Intelligence Leaders Forum | Basel, Switzerland | https://nextlevelpharma.com/events/life-science-rd-data-intelligence-leaders-forum |
| Mar 21-23 | Association for Business Simulation and Experiential Learning (ABSEL) Conference 2018 | Seattle, USA | |
| Apr 9-10 | CGAT 2017 | Singapore | TBA |
| | | | |
| --- | --- | --- | --- |
| May 25-27 | International Society of Digital Medicine (ISDM) Summit 2018 | China | TBA |
| June 18-23 | 7th International Conference on Cartography & GIS Seminar with EU cooperation on Early Warning and Disaster Management | Sozopol, Bulgaria | |
| | | | |
| --- | --- | --- | --- |
| Jul 9-13 2018 | ISAGA 2018 | Bangkok, Thailand | TBA |
If you would like any presentations, videos or documents circulated to my network, I am happy to provide this service free of charge for any material relevant to readers of this newsletter. If you are interested, contact me at david@davidwortley.com.
Best Wishes for a Better Future for all Mankind
David Wortley FRSA
Futurologist, Keynote Speaker, Entrepreneur, Writer, Entertainer, Gamification Guru, 360 Video Pioneer, Thought Leader, Drone Pilot, Imagineer, Lover of Life, Business Coach, Mentor, Facilitator, Early Adopter, Guitar Hero, Broadcaster, Photographer, Visionary, Philosopher, Pragmatist, Innovator, Optimist - these are the roles and attributes I aspire to.
Founder and CEO GAETSS – Gamification and Enabling Technologies Strategic Solutions
Shaping the Future of Business and Society through Human Development and Motivation
President of the European Chapter of the International Society of Digital Medicine
Landline: +441327811827
Mobile Phone : +447896659695
Email : david@gaetss.com, president@isdm.eu
Skype: davidwortley
If you no longer wish to receive these newsletters, simply reply with the word UNSUBSCRIBE and I will remove you from the mailing list.