<![if !vml]>

<![endif]>
July 2017
360 Video and Virtual Worlds, Thaisim 2017 Conference Review,
Marzipano, Cards and Board Games in Gamification, Serious Play 2017 Review
Executive Briefings, Keynote Presentations and Workshops, ISAGA 2018,
Are you a Games Master, Player, Fan, Spectator or Hermit?
Recent Articles and Presentations, Future Events Listing
 
Welcome to the GAETSS July 2017 Newsletter. This month the main themes are 360 video, virtual worlds, recent events and gamification.
In this Edition
<![if !supportLists]>· <![endif]>360 Video and Virtual Worlds
<![if !supportLists]>· <![endif]>Thaisim 2017 Conference Review
<![if !supportLists]>· <![endif]>Marzipano
<![if !supportLists]>· <![endif]>Cards and Boards Games in Gamification
<![if !supportLists]>· <![endif]>Serious Play 2017 Review
<![if !supportLists]>· <![endif]>Executive Briefings, Keynote Presentations and Workshops
<![if !supportLists]>· <![endif]>ISAGA 2018
<![if !supportLists]>· <![endif]>Are you a Games Master, Player, Fan, Spectator or Hermit?
<![if !supportLists]>· <![endif]>Recent Articles and Presentations
<![if !supportLists]>· <![endif]>Future Events Listing
<![if !vml]>

<![endif]>
Where Real and Virtual Worlds Meet – Washington, Baltimore and Skinningrove
The idea and creation of 360 degree images using digital photography is not new. I first experimented with the use of technology to create fully immersive digital images over 20 years ago. The main applications in those days were for museums and estate agents and the process involved taking a series of still images and using software to "stitch" the images together in a time consuming process which never really took off in a significant way. The use of technology to faithfully reproduce 360 degree environments was overtaken by the emergence of artificially created virtual worlds such as Second Life which take advantage of some of the technological limitations of the 360 degree imaging of "real" environments by using 3D graphics to build worlds which can not only be rendered by consumer devices but also offer freedom of movement within those worlds and interaction with other avatars and objects in ways which were not technically practical with "real" 360 images.
My involvement with virtual worlds in a significant way was in 2005 whilst I was working as a Project Manager for De Montfort University and discovered Second Life, including details of it in one of my newsletters of the time. Since then, Second Life has been widely adopted for serious purposes including the hybrid real/virtual conferences we used to run at the Serious Games Institute, the "Wheelies" virtual nightclub developed by Social Entrepreneur Simon Stevens and, over recent years, several initiatives launched by Steve Thompson, a social entrepreneur friend based in Teesside.
The bottom half images of the picture heading this section of the e-newsletter relate to a highly innovative project Steve Thompson managed which resulted in raising around £3M for a community regeneration project in the North Eastern village of Skinningrove. This community, in decline because of the impact of Steel Industry closures, wanted to rebuild a jetty which had been used before the Second World War to bring in iron ore. The Skinningrove jetty was badly damaged by the war and never reconstructed but two local men campaigned for a vision to rebuild the jetty as a war of regenerating the local economy through tourism. Steve Thompson's pioneering use of Second Life for "digital puppeteering" resulted in a series of videos created using Machinima (see https://www.youtube.com/watch?v=F7_Nf7gp9qI for a great example) that eventually visualised the project, gained support for the fund raising and brought a united community a new lease of life.
Today, the enabling technologies upon which 360 images and video are dependent for affordable and accessible creation of immersive experiences of "real world" environments are maturing rapidly and the latest announcements from Ricoh about a new 360 degree 4K resolution camera with spatial audio due to be released sometime this year hold promise for rapid growth of a whole range of products and services based on the use of VR technologies.
I have been using a Ricoh Theta S 360 degree camera to capture still images and videos from around the world and showcase these on my 360in360 Transmedia Storytelling YouTube Channel at https://www.youtube.com/channel/UCqp_emcvW1P27C7EqpnyV3Q. Here you will find many examples of 360 video applications which, at this stage of the technology lifecycle, are still far from perfect but at least give an example of what will be possible over the coming months.
You will find details of an interesting application for 360 degree images (Marzipano) later in this newsletter. One of my future plans to is to embark on a 360 degree tour of the UK and Europe collecting and archiving 360 degree digital content for a range of commercial and educational applications and I will be seeking partners and sponsors for this initiative.
If you are interested in being involved as a partner or sponsor, email me at david@davidwortley.com.
Thaisim 2017 Conference Review
Images from the first day of Thaisim 2017 held in Bangkok
Thaisim is Thailand's annual conference on the use of games and simulations for education and is one of my favourite annual events, partly because of the legendary hospitality and warmth of Thai people but mainly because of the commitment to the practical application of serious games and simulations within the conference itself. The 2017 conference was the 9th international Thaisim Conference and was held at the Bansomdejchaopraya Rajabhat University in Bangkok on 29-30th of June. This year's event was honoured by a presentation about Thailand's commitment to technology given by the Deputy Minister for Education, Pannada Diskul. The theme of the conference was "Enhancing learning benefits from games, simulations and facilitation in Thailand 4.0"
My own keynote session at the beginning of Thaisim 2017 was entitled "Next Generation Storytelling with Virtual Reality and 360 Camera Technologies". I used the opportunity to try out a practical application of gamification combined with 360 degree video storytelling as an ice breaker for the conference using gamification elements which could be easily applied in the classroom. I also recorded a 360 degree video in my presentation introduction section which is published on Youtube in four parts, the first of which can be viewed at https://www.youtube.com/watch?v=Cn7vy19OZOg.
The conference ice breaker learning game involved 60 delegates selecting playing cards at random to form ten teams of 6 players based on the value of the selected card e.g. all the delegates who selected an ace cards were in team one, those who selected a card with number 2 in team 2 and so on. Each team was then given a pack which contained a map and a set of stick on symbols related to the map. The teams were instructed not to open their package until they had listened to a story and watched a 360 degree video about a school trip around the world planned by a teacher who had unfortunately fallen over resulting in mixed up and missing symbols. The video showed ten locations around the world in 360 degrees with each location having only 6 seconds on screen. In the short time available, the winning team was the first to correctly identify their map location and find a missing symbol from the other teams. The competition was a practical example of the use of cards, stories and 360 video to inspire self-directed  learning and teamwork.
There were many other examples of the practical application of games and facilitation to learning but there were two sessions which particularly impressed me. The first of these was a repeat of the "Salad Bowl" game designed and facilitated by Vinod Dumblekar and Songsri Soranastaporn. Self-organised teams of up to 8 people were given packs of cut up images, a blank poster, marker pen and paper adhesive. There were no instructions given on the objectives of the game and the rules included no speaking or signalling of any kind between team members. The teams had to give themselves an identity and piece together a picture puzzle that had a missing piece they had to find. The exercise concluded with a presentation from Vinod explaining the lessons to be drawn from the experience about collaboration, communication and teamwork.
The other highly interactive session was on the use of Games and Simulations for Language Development run by teachers from Thailand.
Images from the conference can be viewed on my Flickr page https://www.flickr.com/photos/davidwortley/albums/72157682870896654
My conference presentation is accessible at https://www.slideshare.net/dwortley/storytelling-and-immersive-learning-with-360-video-vr-technologies-and-gamification-techniques
<![if !vml]>

<![endif]>
Using Marzipano to navigate the world in 360 degree images in the Thaisim 360 Quiz
It was whilst I was at Thaisim that I was inspired to explore solutions which could make the posting, navigation and labelling of 360 images onto web sites as easy and accessible as possible. I was seeking a tool which could make it possible for teachers to create their own experiential learning experiences using 360 degree still images. It was this search that led me to Marzipano and a potential gateway to the creation of web applications using 360 degree images.
Marzipano is a free web based application which has the functionality I was looking for. It allows you to choose 360 degree images from cameras like my Ricoh Theta S, overlay these images with information panels for points of interest (POI) and pointers to navigate to another image. In addition, it can automatically create a menu panel to navigate to any 360 image in the collection.
To see an example of the output of Marzipano using some of my 360 images from around the world, go to http://www.davidwortley.com/thaisimchallenge/index.html. If you are interested in developing a Marzipano application or would like some training, contact me at david@davidwortley.com.
Cards and Boards Games in Gamification
<![if !vml]>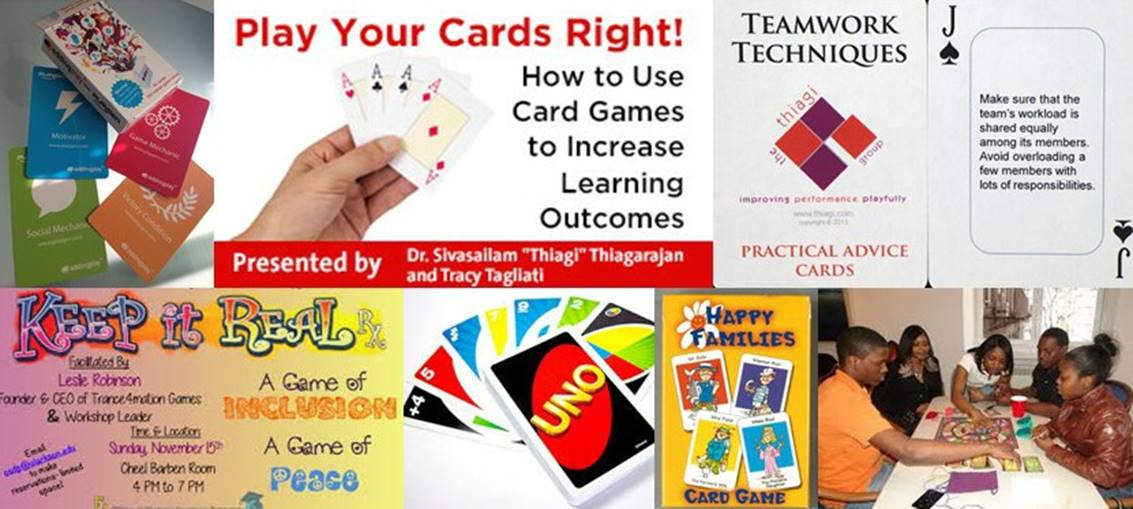 <![endif]>
Example Card and Board Games for Gamification Strategies
Whilst the use of serious games and simulations has generally been identified as being synonymous with video games and digital technologies, there are very simple, easy to set up and effective gamification techniques which do not use technology at all and which are proven routes to engagement. Cards and board games offer many opportunities to both apply and teach gamification in every imaginable sector. I am a great fan of playing cards such as the standard 52 pack of cards used in games like poker and solitaire, Uno cards and the many varieties of Happy Families cards. All of these cards provide an ideal way to introduce the elements of challenge and chance into any classroom or workshop situation. Using the selection of cards to create teams of people at random can be a great icebreaker as well as encouraging collaboration.
Playing cards are used to great effect by masters of games-based learning workshops such as Dr "Thiagi" Thiagarajan who has developed different sets of playing cards to teach different topics. An example of the set of cards he uses to develop teamwork techniques is shown in the above image.
Customised sets of cards for gamified learning have also been developed by Playgen and the team at the Disruptive Media Learning Lab (DMLL) at Coventry University.
Board games are also an effective platform for gamification strategies which embed elements of chance (roll of the dice), challenge and consequence. Snakes and Ladders is one of the oldest games to epitomise these elements which mirror what we all encounter in everyday life.
A company which uses both cards and board games for social benefit is Trance4mation Games LLC run by Leslie Robinson and based in New York. I had the pleasure of sampling one of Leslie's games at the Serious Play 2017 conference. The game which includes dice, cards, paper and pencil is designed to be played by couples or in groups with the intention of developing emotional wellbeing, empathy and communication skills. The design of the game and the rules create a non-confrontational, non-threatening environment which can help in situations of stress and isolation.
In the UK, Focus Games are one of the leading developers of serious board games which are being used in hospitals, clinics, universities, schools, companies etc. by a wide range of people to address clinical, social and organisational issues.
For more information on the Focus range of card games and board games, visit their website at www.focusgames.com
Please contact me if you are interested in learning how best to use cards and board games to develop learning and development outcomes.
<![if !vml]>

<![endif]>
Images from the Serious Play 2017 Conference held at the George Mason University in Virginia
The Serious Play 2017 Conference took place at the George Mason University Campus in Manassas, Virginia, USA in partnership with the Virginia Serious Games Institute (VSGI). It was a special privilege to be involved in this event as a speaker because the VSGI is modelled on the UK's Serious Games Institute at Coventry University where I was the Founding Director.
Serious Play 2017 was a three day event showcasing and discussing the latest developments in the serious application of games, playfulness and virtual worlds to a wide spectrum of themes with a strong focus on health applications which ranged from board games designed to support emotional wellbeing through virtual world applications for medical training and diagnostics to some of the latest developments in games technologies as prescription medicine.
Apologies for any cross posting of these details to subscribers of both this newsletter and the ISDM newsletter.
Serious Play is an initiative superbly organised by Sue Bohle (pictured above), one of the world's thought leaders in serious games and virtual worlds applied to real world challenges. There were many excellent and inspiring sessions over the three days which provided a great platform for networking and knowledge sharing.
Amongst the most memorable elements over the 3 days were the opening panel session facilitated by Ran Hinrichs. This included the distinguished panel's predictions for future developments. I recorded part of this session in 360 video and archived it on YouTube at https://www.youtube.com/watch?v=uT1XEXn5ifQ
There was a keynote presentation by Nolan Bushnell, Founder of Atari in which he expressed his views about the future of education and the global challenges posed by developments in artificial intelligence.
I also enjoyed the tour of the VSGI which included meeting some of the start up businesses being incubated at George Mason's facility and I resonated with Ran Hinrich's presentation on innovation and immersion which I part-recorded in 360 video and posted at https://www.youtube.com/watch?v=x-51W__mbXY.
Finally, as well as award winning Leslie Robinson's workshop on board games for emotional well-being, one of the highlights of the conference was a special evening presentation by the Red Cross Crescent organisation on how they use gamification to engage stakeholders and policy makers to raise timely funding for disaster relief. This presentation, like the ones in Thaisim, did not use technology to engage the audience but employed simple techniques to engage the imagination with activities which mimicked simple card games like "Snap".
You can access more information and archived content at the following locations.
<![if !supportLists]>1. <![endif]>Digital Images & Videos of Conference – see https://www.flickr.com/photos/davidwortley/albums/72157683857431253
<![if !supportLists]>2. <![endif]>360 Degree Video Extracts from Serious Play – see YouTube Channel  https://www.youtube.com/channel/UCqp_emcvW1P27C7EqpnyV3Q
<![if !supportLists]>3. <![endif]>My presentation at Serious Play 2017 – see https://www.slideshare.net/dwortley/trends-in-serious-games-for-health-and-well-being
<![if !supportLists]>4. <![endif]>Serious Play Conference website – see https://seriousplayconf.com/
Executive Briefings, Keynote Presentations and Workshops
<![if !vml]>

<![endif]>
360 degree image from my presentation at Serious Play 2017
During my visit to Washington, I was able to spend some time with a dear friend and former President of the International Symposium for Digital Earth, Tim Foresman. As well as initiating me in my first ever live baseball game at the Baltimore Orioles and providing me with a copy of Apollo 14 Astronaut Ed Mitchell's Powerpoint presentations about his trip to the moon and the impact it had on his life, we drew up plans to promote Executive Briefings, Keynote Presentations and Workshops based on the impact of technology on the future of all aspects of life on our planet.
Both Tim and I and our international network of trusted thought leaders engaged in understanding the challenges and opportunities for society, business, education and the environment created by developments in technology want to offer senior executive briefings, keynote presentations and workshops designed to inspire, inform and influence the decision makers who will shape our world.
Please contact me if you are either interested in hiring our team for a key event or interested in joining our team of thought leaders and presenters.
<![if !vml]>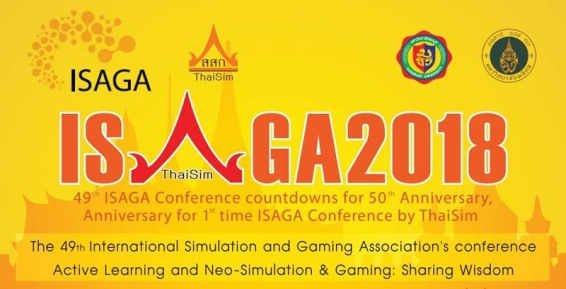 <![endif]>
ISAGA is a professional association for students, teachers, trainers, researchers, practitioners and other professionals. Its aim is to promote gaming simulation methods, including research, consulting, learning and teaching methods, such as traditional business and management simulation games, policy exercises, computer simulations and computer-supported simulation games, role play, learning games, scenarios, dynamic case studies, experiential learning activities, business-theatre, etc..
Ten Countries, including Thailand, in South East Asia came together in an alliance called ASEAN Economic Community (AEC) in 2015. Higher education reform, harmonization, and developing new teachers are key issues of AEC. To celebrate Thaisim's 10th anniversary and to appreciate the half century legend of ISAGA, this conference is planned as an opportunity to exchange the wisdom from many countries. ISAGA 2018 will discuss the future of Simulation & Gaming, ISAGA, people, and learners together. Everyone is welcome to discover the future; so come, let's gather in Thailand!!!
For more details visit  http://www.thonburi-u.ac.th/ISAGA2018/index.php
Are you a Games Master, Player, Fan, Spectator or Hermit?
<![if !vml]>

<![endif]>
Examples of the roles played in the Formula One Human Activity
In my white paper on Gamification Theory and Practice, and in many subsequent presentations at conferences around the world, I argue that gamification is embedded into the DNA of all living creatures and is a vital component of our survival and development. From the time we are born we not only face challenges and uncertainties that shape our development but we also use challenges and uncertainties to influence the world around us.
Every human activity can be viewed in the context of a game by applying a gamification lens to the different roles we either choose to play or are imposed on us by circumstance. The gamification lens assigns the following generic roles to human behaviour, motivation and development :-
<![if !supportLists]>· <![endif]>The Games Master is a role which has most influence in setting and/or influencing the rules and outcomes of the activity
<![if !supportLists]>· <![endif]>The Player is the role which is most motivated to master the skills to influence outcomes and engaged in the activity
<![if !supportLists]>· <![endif]>The Fan is not directly involved in influencing outcomes but is passionate about the activity and willing to invest time, energy and money in shaping the activity outcomes
<![if !supportLists]>· <![endif]>The Spectator has a dispassionate interest in the activity and its outcomes but does not invest much time, energy and money in the activity
<![if !supportLists]>· <![endif]>The Hermit has absolutely no interest in getting involved in the activity
My challenge to you is to think about all the activities in your life – sport, health, romance, career, relationships and ask yourself what role you currently play in those activities and whether you want to have more control over the outcomes of those activities. If you decide that in most of your life's activities you are a spectator (which is what happens to most of us in today's environment), then developing the gamification skills you were born with could make a substantial difference to the quality of your life.
If this challenge resonates with you, please do not hesitate to contact me to discuss.
Recent Articles, Videos, Presentations and Papers
A comprehensive list of archived articles, presentations and videos can be accessed at my website – http://www.davidwortley.com/conferences.html
The most recent updates are shown below :-
Below is a list of forthcoming conferences – also accessible at http://www.davidwortley.com/events.html
| | | | |
| --- | --- | --- | --- |
| Date | Event Name/ Description | Location | Web URL |
| Aug 14-17 | Visualising Sustainable Solutions | Silicon Valley, USA | |
| Sep 6-8 | Game-On' 2017 | Carlow, Ireland | |
| Sep 7 | Westminster Media Forum | London, UK | http://www.westminsterforumprojects.co.uk/conference/growth-in-the-UK-creative-industries-2017/25287 |
| Sep 11-12 | NHS Health and Care Innovation Expo | Manchester, UK | |
| Sept 21st | Westminster Forum on Advertising | London, UK | http://www.westminsterforumprojects.co.uk/conference/native-and-social-influencer-strategies-2017 |
| Sep 21-22 | Serious Games Conference | Singapore | |
| Sep 27-29 | World Education Day 2017 Conference | Dalian, China | |
| Oct 2-3 | Games for Health Europe 7th Annual Conference | Netherlands | |
| Oct 4-6 | ECGBL 2017 European Conference on Game-based Learning | Graz, Austria | |
| Oct 17-18 | World of Learning Conference | Birmingham, UK | |
| Nov 1-3 | BIT 5th Global Health Conference | Taiyuan, China | |
| Nov 9-11 | WCBME 2017 - World Congress on Biomedical Engineering | Xian, China | |
| Nov 14-16 | 2017 WISE Summit: "Co-Exist, Co-Create: Learning to Live and Work Together | Doha, Qatar | http://www.wise-qatar.org/2017-summit-education-coexist-cocreate |
| Nov 28-30 | GIANT Health Conference 2017 | London, UK | |
| Dec 12-13 | UK Digital Healthcare Transformation Summit | London, UK | |
| Jan 21-24 2018 | R&D Data Intelligence Leaders Forum | Basel, Switzerland | TBA |
| Apr 9-10 | CGAT 2017 | Singapore | TBA |
| Jul 9-13 2018 | ISAGA 2018 | Bangkok, Thailand | TBA |
If you would like any presentations, videos or documents circulated to my network, I am happy to provide this service free of charge for any material relevant to readers of this newsletter. If you are interested, contact me at david@davidwortley.com.
Best Wishes for a Better Future for all Mankind
David Wortley FRSA
Founder and CEO GAETSS – Gamification and Enabling Technologies Strategic Solutions
Shaping the Future of Business and Society through Human Development and Motivation
President of the European Chapter of the International Society of Digital Medicine
Landline: +441327811827
Mobile Phone : +447896659695
Email : david@gaetss.com, president@isdm.eu
Skype: davidwortley
If you no longer wish to receive these newsletters, simply reply with the word UNSUBSCRIBE and I will remove you from the mailing list.